SHS FCCLA Collects TEE's in a Unique "Recycle" Program
Give Us the Shirt Off You Back!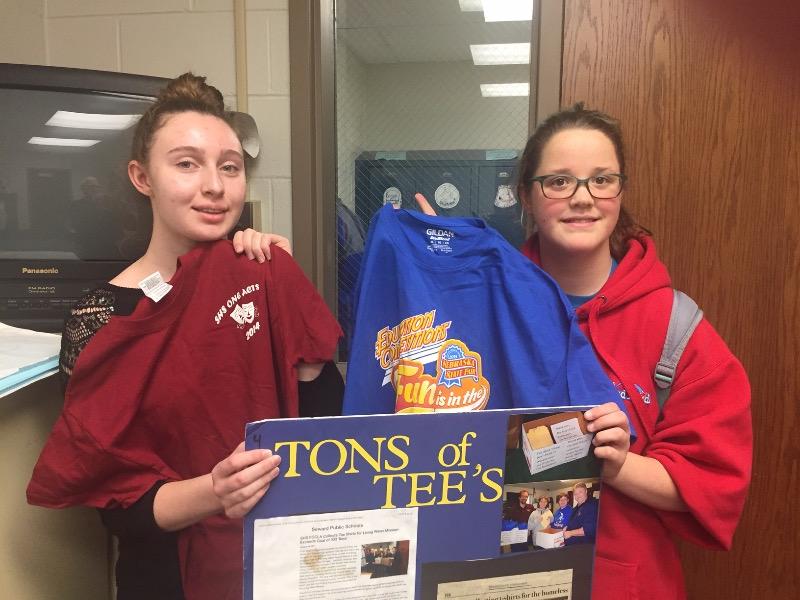 Hannah Kolterman-Wagner and Miriam Voehl, SHS Freshmen member of the Family Community Career Leaders of America (FCCLA) Seward Chapter, volunteered to serve as the co-chair for a local campaign to collect new and "like new" tee shirts for those in need or homeless-hoping to recycle the many shirts "just laying around." The local collection sites are at the Seward Civic Center-616 Bradford Avenue, by the front door and in the SHS lobby, 532 Northern Hgts, through the holidays.
The FCCLA Committee is focusing on this as way to assist the homeless and is coordinating this effort with the general SHS FCCLA Chapter. "We felt that most young adults have a drawer full of tee shirts that they may have collected through the years and never wear" said Hannah Kolterman-Wagner. "We always get tee shirts at the many events and activities we attend and yet often find ourselves wearing our favorite tee shirts over and over."
"This has been a very successful project for the SHS FCCLA Chapter in the past and almost become an annual drive for the students, sort of like the annual food drive," stated Miriam Voehl-co chair.
"We just feel that we can put these tee shirts to better use and invite others to join us in this campaign to collect a "ton of tees" for others!" stated Hannah Kolterman-Wagner. "It would be great to collect a 'Ton of Tees'!"
The FCCLA members are collecting new and like new tees in all sizes and regardless of the message on front (as long as it is appropriate.). "It would be great to collect a "Ton of Tees!" but the theme has a nice sound and yet we are also realistic, knowing a ton is a lot of tee shirts. However, whatever is collected will help those without," said Miriam Voehl.
The members plan to personally deliver the tees before the start of the next school term on behalf of their FCCLA Chapter, SHS and the Seward Community. "We have been given so much in our lives, it is nice to be able to share some things with others, and a good way to start the new year." Stated Miriam Voehl.
Collection boxes will be available during the hours the Civic Center front lobby and High School lobby are open.