Elijah Hackbart First Youth Rotarian for 2018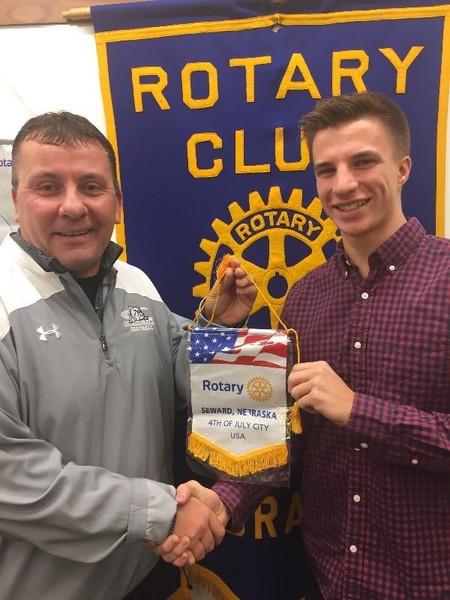 Elijah Hackbart was selected the January Youth Rotarian of the Month. He is the son of Daryl and Susan Hackbart and was honored at the January Rotary Club meeting, Wednesday, January 3, 2018 at their noon luncheon meeting at the Jones National Bank and Trust in Seward. He was presented a Book Scholarship by Rotary, Rotary information, mementos and a Rotary Banner.
Elijah is a student athlete. He is very involved in the SHS athletic programs, including the SHS Basketball program, Varsity SHS Cross Country and Varsity SHS Soccer. He has been one of the senior leaders in both Cross Country and Soccer and garnered various awards and recognition for his efforts.
Elijah has been a member of the SHS Honor Roll and he has participated various mentoring programs and continues to serve as a student mentor.
He is a member of the SHS Future Business Leaders of America (FBLA) and works towards their various leadership goals and projects. He is also a leader and involved in the local, awarding winning SHS FFA program and one of the Senior Standouts in the local Skills USA Chapter at SHS, participating in Job Description and the Opening and Closing Ceremony team (OCC) for Skills USA.
Elijah is a member of the Hillcrest Evangelical Free Church in Seward and an involved youth leader and voice of their church. He is involved and has been part of numerous (six) mission trips sponsored by his church and continues to volunteer for the mission trips yet today! He has volunteered for many of the church's community projects, assisting others in time of need and with a variety of service to others.
His area of "Service Above Self" is exemplified through his many community service activities with the local, high school service clubs and his active participation in volunteer service through his church. He also assisted with the toy distribution for the Seward Rotary Club's annual "Stuff the Cruiser" Christmas Toy Campaign.
Elijah plans to attend Southeast Community College in Lincoln in their Degree Transfer program and then hopes to attend the University of Nebraska and eventually become a Woods/Building Construction/Building and Trades Vocational Education teacher.
He will again be recognized with the other monthly Youth Rotarians at the annual SHS Honors Night in the spring and is now in competition for the annual Youth Rotarian of the Year scholarship and award, which will be announced that evening in the new SHS Theater.
The Seward Rotary Club nominates one student each month during the school year and recognizes them as the Youth Rotarian of the Month. SHS seniors can apply with an application from their counselor's office or contact Clark Kolterman in SHS Room 116.