Bosmeniel and Myers Are 2017-2018 District Voice of Democracy Finalists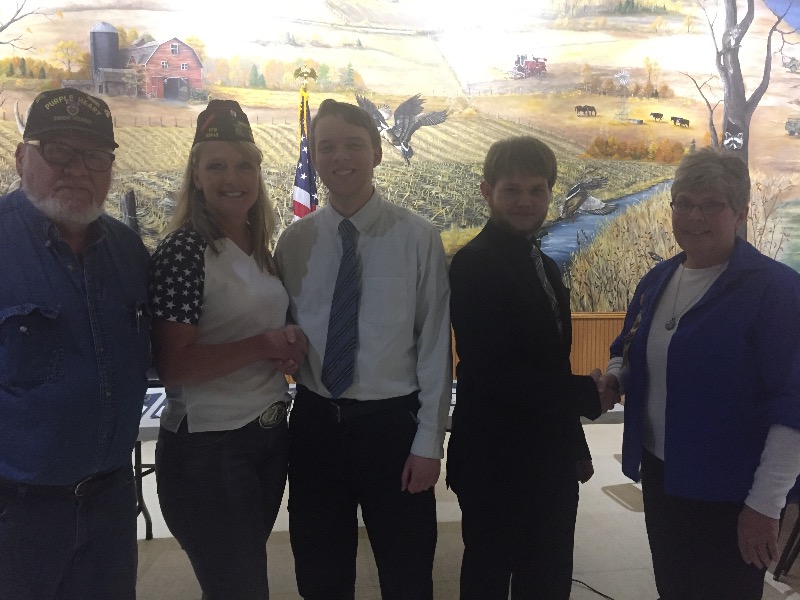 Senior's at SHS Thomas Bosmeniel and John Mark Myers were named District VFW finalists in the 2017-2018 Voice of Democracy Speech Contest. Thomas Bosmeniel was named District Champion and John Mark Myers was named Third Place for the District. There were a total of 209 entries in the District VOD Contest, with twenty qualifying for the finals. The top three finalists were recognized and honored at the VFW District meeting in Yutan at the Veteran's Country Club on Sunday, January 21, 2018 at 2:00 pm. The students were introduced and presented certificates, medals and cash scholarships from the District. Each student was required to write and record their five minute speech on a DVD for the District contest on the theme "American History-Our Hope for the Future!" Bosmeniel presented his speech at the District gathering in Yutan.
Bosmeniel now qualifies as a State VFW Voice of Democracy Finalist in competition to represent the VFW and Auxiliary nationally. The winner will be announced Feb. 2 at the Governor's Mansion at a special reception.
Seward High entered over 120 entries locally, with nine student essays selected for the District Contest. Local SHS awardees at the District contest included Thomas Bosmeniel, Kenna Gottschalk, Greta Hughes, Bailey Mooney, John Mark Myers, Macy Gebhardt, Madalyn Lobmeyer, Peyton Davis Schmidt and Josephine Freeman of Milford High. Bosmeniel placed first locally, followed by Gottschalk, and Hughes.
Cash prizes will be awarded to the local winners and they will be recognized at the annual Senior Honors Night in the spring by the Seward VFW and Auxiliary as well.
Clark Kolterman, local SHS Speech teacher and sponsor and VFW leader-Greg Holloway of Bee –VFW VOD Contest Chair and VFW Patriot's Pen Chairman (Middle School Essay Contest) also attended the event.