SHS Academic Decathlon Team Results Released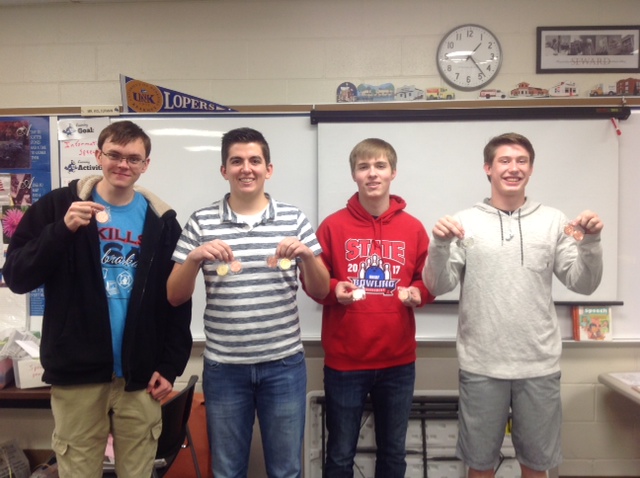 The SHS Academic Decathlon Team competed in their annual Academic Decathlon Regional contest at Bellevue East High School on Saturday, January 20 for an all day, academic competition. Individual and team results had not been made available, due to computer malfunctions, with final tabulations and results pending for both individual and team awards. The results are now available. SHS placed third overall and were awarded 17 medals for placement in the various academic contests.
Chris Galusha BRONZE – Music Honor, Evan Nottingham GOLD – Math Honor, BRONZE – Economics Honor, GOLD – Science Honor, BRONZE – OVERALL for Honor, GOLD Top Team Scorer, Elias Stillahn SILVER – Literature Scholastic, Avery Stillahn BRONZE – Economics Scholastic, BRONZE – Science Scholastic, Alysa Biggs BRONZE – Art Honor, SILVER – Music Honor, BRONZE – Math Honor, Tyson Reisdorf BRONZE – Art Varsity, BRONZE – Music Varsity, SILVER – Math Varsity, SILVER – Economics Varsity.
This is the 20th year that SHS has competed in the Academic Decathlon team contest. It is funded through the School District of Seward High Ability Learner Program (HAL) and the Seward Optimist Club. The Seward Optimist Club also donated matching team tee shirts for each of the team members.
Schools that competed in the Middle School size division of Academic Decathlon included Seward, Omaha's Daniel Gross, Omaha's Skutt, York, Lexington and Alliance.
SHS Senior, Evan Nottingham won the top honors for the SHS Academic Decathlon team-receiving the top test scores and being presented with a commemorative gold medal and the Bronze Medal for being one of the top scholars of the tourney.
Members of the SHS Academic Decathlon Team for 2018 included Evan Nottingham, Avery Stillhan, Elias Stillahn, Chris Galusha, Mason Mahalek, Bailey Fernau, Alyssa Biggs, Tyson Reisdorff,
Clark Kolterman served as the SHS Academic Decathlon coordinator/coach for 2018 and Pam Franck and Kyle Hinkel served as the team sponsors that day, as Kolterman attended a Speech Tourney at Concordia University.