Six SHS Speech Team Students Win Medals at Central Ten Conference Tourney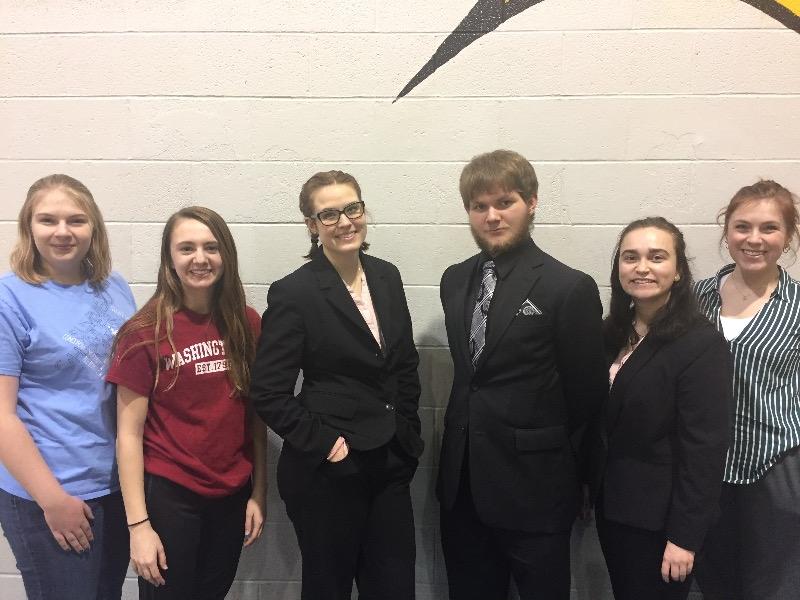 The SHS Speech team brought home seven medals at the recent Central Ten Conference Tourney held at the Columbus Lakeview High School on Monday, Feb. 19th in an all-day tourney. The school was allowed two entries per category and Seward presented a full team of contestants, with 18 entries.
Winning at Central Conference was the SHS Drama Team -6th Place OID, with Thomas Bosmeniel, Virginia Glaser, Emily O'Kief, Abby VanVelson and Greta Hughes. Placing 5th in Serious Prose was Thomas Bosmeniel, and Kenna Gottschalk placed 5th in Poetry,
Students attending that received Superior Ratings included Virginia Glaser and Rory Nolan-Duet, Cordell Vrbka-Entertaining speaking and Humorous Prose, Jarod Harris Entertaining Speaking, Kenna Gottschalk-Poetry and Informative Speaking, Madalyn Lobmeyer-Informative Speaking and Persuasive Speaking, Thomas Bosmeniel-OID and Serious Prose, Nora Halder-Serious Prose, Bailey Mooney-Poetry, Macie Spotanski-Persuasion and Duet, Peyton Davis Schmit-Duet and OID, Nathan Meyer-OID, JJ Metschke-OID, Ela Davis Schmit-OID, Carissa Gottschalk-OID and Greta Hughes-OID, Abby Van Velson-OID, Emily O'Kief-OID and Virginia Glaser-Duet and OID, Andrew Alley-Humorous Prose.
The team placed fifth overall and is coached by Clark Kolterman, with Melissa Pohl serving as assistant coach. SHS will host the Central Conference Speech contest in 2019.