Jenna Williams February Youth Rotarian of the Month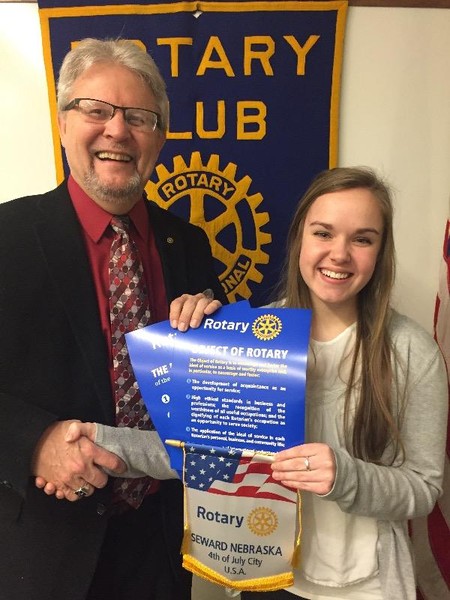 SHS Senior, Jenna Williams is the Seward Rotary Club Youth Rotarian of the Month. She attended the Feb. 7th Rotary Club weekly luncheon meeting at the Jones National Bank and Trust in Seward. She is the daughter of Craig and Lori R. Williams of Seward. Following the luncheon, she was introduced and applauded for her "Service above Self" and involvement in her school, church and community.
Jenna is always a member of the SHS Honor Roll and a leader in the local Chapter of the National Honor Society. She has been an SHS Student Ambassador for three years, Student Helper at Freshman Orientation, Student of the Month twice and received numerous PRIDE awards.
Jenna is a scholar athlete, as she is a four year member of the SHS award winning Volleyball team and was the team captain this last year. She received numerous awards and recognition for her leadership on the volleyball court over the years.
Jenna is a four year member and leader in the Seward High Singers/Show Choir. She is has been a longtime leader of the organization and worked hard to make the group successful. She also has been in the SHS Choir and participated in many of the SHS musicals.
Jenna has served as an Outdoor Ed Counselor, a member of the Circle of Friends and participated in Poetry Outloud and the VFW Voice of Democracy Speech contests at Seward High.
Jenna was employed the last five years in the fields and with the detassling, roguing for three years and served as a babysitter/Nanny. She is now working at Ridgewood Rehabilitation Center in Seward.
She is a member of the Hillcrest Evangelical Free Church, involved with their Godparent program and a leader in the youth program, Vacation Bible School and the New Orleans Mission Trip three times! Jenna is a Nursery worker at her church and involved in their numerous church activities.
Her plans include attending the University of Nebraska in Lincoln/Bryan School of Nursing with the goal of coming a Registered Nurse.
Her "Service Above Self" service has revolved around her activities through her church work, the four mission trips and also working with young girls at the many summer volleyball camps at Seward High.
She was thanked for her many years of service to others and being a role model for many at SHS. She will be recognized again at the SHS Honors Night, where the monthly finalist will be introduced and the Youth Rotarian of the Year will be announced.
The Seward Rotary Club Youth Rotarian award is presented monthly at the Seward Rotary Club meeting. Applications are on the Google Drive at SHS or can be obtained from Clark Kolterman in Room 116.