MAP Testing Information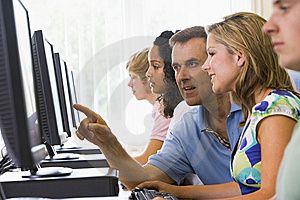 The purpose of this page is to provide information to parents regarding the various tests your child will take at Seward, the terminology, and explanations of the scores you receive. If you would like additional information, please send an email to Brad Best, Director of Curriculum & Staff Development or Connie Biaggio, Special Services Director.
How does the MAP test work?
MAP dynamically adapts to a student's responses – as they take the test.
• Answer a question correctly and the test presents a more challenging item
• Miss a question, and MAP offers a simpler item
In this way, the test narrows in on a student's learning level, engaging them with content that allows them to succeed.
Understanding each student's academic level gives teachers the power to help them excel. MAP computerized adaptive assessments are the tools that make it possible – providing educators with the detailed information they need to build curriculum and meet their students' needs, one child at a time.
What is a RIT score?
The RIT Scale is a curriculum scale that uses individual item difficulty values to estimate student achievement. An advantage of the RIT scale is that it can relate the numbers on the scale directly to the difficulty of items on the tests. In addition, the RIT scale is an equal interval scale. Equal interval means that the difference between scores is the same regardless of whether a student is at the top, bottom, or middle of the RIT scale, and it has the same meaning regardless of grade level.

Characteristics of the RIT Scale include:
* It is an achievement scale.
* It is an accurate scale.
* It is an equal interval scale.
* It helps to measure growth over time.
* It has the same meaning regardless of grade or age of the student.
You can view a video explanation of a RIT score by clicking here.
Where can I get more information on MAP testing?
The NWEA Parent Toolkit was created as a resource and guide for parents. It includes Frequently Asked Questions, Tips for Parents, and a list of web sites for parents and kids. Download the Parent Toolkit by clicking this link >> Parent Toolkit