SHS brings home 9 medals from Osceola Speech Tourney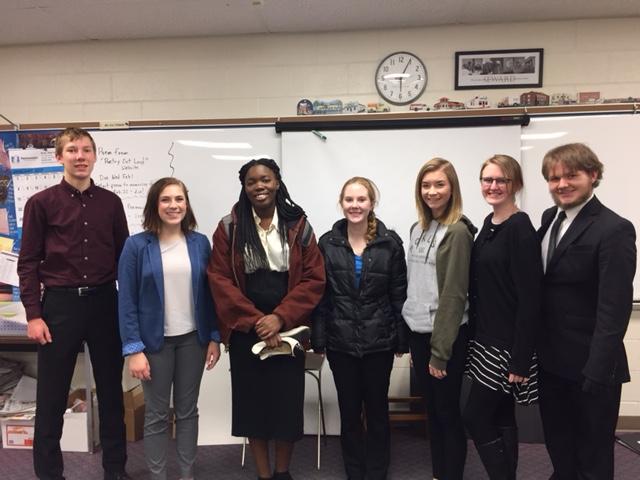 SHS captured nine medals at the recent Osceola Speech Tourney at Osceola High School on Saturday, January 28, 2017 in an all-day tourney. Nana Abenaa Wright and Kenna Gottschalk placed second in Duet, and in Poetry, Nana Abenaa Wright placed Fifth, Kenna Gottschalk won Sixth, Seventh place went to Taylor Brodecky and Thomas Bosmeniel was Eighth, with Bailey Mooney named Top Novice. In Extemp Evan Mettenbrink placed Eighth and in Sydney Erickson placed Second in Informative Speaking.
Students who received Superior Ratings included Nana Abenaa Wright, Kenna Gottschalk, Sydney Erickson, Andrew Pavel, Maci Sponskanski, John Myers, Evan Mettenbrink, Abbey Van Velson, Tirey Bearup, Taylor Brodecky, Bailey Mooney, Thomas Bosmeniel, Katryna Rukas, Jarod Harris, Nolan Whitney,and Peyton Davis Schmidt.
Volunteer Seward judges at the recent meet included Austin Taibemal, Austin Van Velson, Melissa Pohl, Brodie Oshel and Clark Kolterman. A team is required to furnish a judge for every six entries.
The team will travel to Aurora High, David City High, David City Aquinas High, Schuyler High for Central Conference, Waverly High, and Columbus Lakeview for NSAA District before Kearney for State Speech.
Clark Kolterman serves as the SHS Speech Judge.