Three SHS Students Qualify for State Speech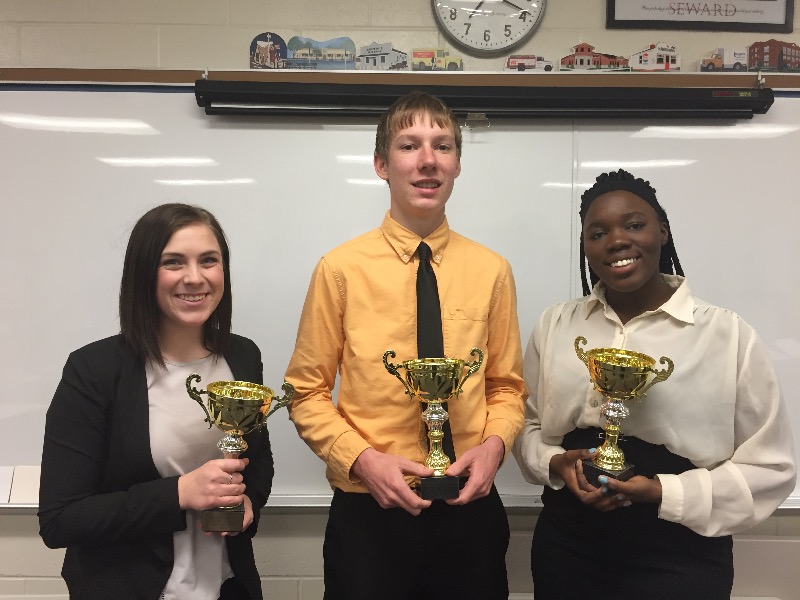 Three SHS students qualified for the State Speech Contest in Kearney on Thursday, March 23 at the University of Nebraska at Kearney, placing in the finals at the NSAA District Speech Contest on Monday, March 13, 2017 at Columbus Lakeview. Qualifying for states speech was Nana Abenaa Wright in Poetry-First Runner Up, Nana Abenaa Wright/Kenna Gottschalk in Duet-Third Place-with a cutting from "The Help" novel, and Evan Mettenbrink in Extemporaneous Speaking-Third Place. Thomas Bosmeniel was also a District finalist, and place fifth in Persuasive Speaking.
Superior ratings from the Seward Team included Kevin Lyon, Tirey Bearup, Thomas Bosmeniel, Taylor Brodecky, Cayden Glandt, Kenna Gottschalk, Madalyn Lobmeyer, Rebecca Martin, Evan Mettenbrink, Bailey Mooney, Grace Orwen, Andrew Pavel, Katryna Rukas and Nana Abenaa Wright
The team is coached by Clark Kolterman, educator at SHS. There were eight schools in the tourney, Columbus Lakeview, Milford, Columbus Scotus, Wahoo, West Point, Schuyler, Wayne and Seward. Columbus Lakeview won the tourney, Seward placed sixth overall.