Alysa Biggs Selected Youth Rotarian of the Month for September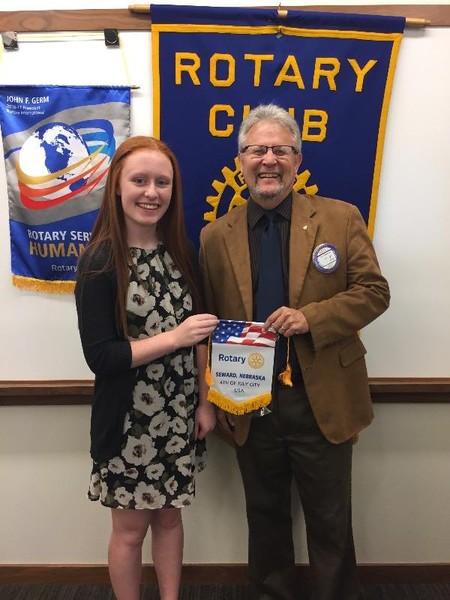 SHS Senior, Alysa Biggs was selected the September Youth Rotarian of the Month by the Seward Rotary Club and honored at their weekly luncheon meeting on Wednesday, September 06, 2017 at the Jones National Bank and Trust Auditorium. She is the daughter of Don and Julie Biggs of Seward.
Alysa is an involved student at Seward High both academically and with extracurricular activities. She is currently the top student academically in her class of 138 students. Alysa is also a leader in the local SHS National Honor Society and has been on the Honor Roll for all twelve quarters at SHS. She has enjoyed several Advance Placement classes and a member of the SHS Academic Decathlon Team, competing in Omaha in January.
She has been involved in the SHS Volleyball program, as well as a longtime member of Club Volleyball. Alysa is also a Seward High Ambassador and a Mentor in the Circle of Friends program at SHS.
She is an active, involved leader in the SHS Future Business Leaders of America Chapter (FBLA) and participated and was recognized at their State Leadership Conference in Proofreading. She was a member of Key Club and involved with Skills USA-participating in the State Leadership Conference for the last two years.
Alysa was a member of the SHS Select Choir and participated in the school's annual musical. She took piano lessons for six years and enjoys a variety of musical venues.
She is a longtime participant at Shelly's School of Dance and currently serves as a Dance Aid.
One of the real loves of Alysa is her work with the local 4-H program, as she has been a member and involved in 4-H since 2010, winning a host of multiple ribbons, various awards and numerous trophies at the County and State levels of competitions.
Alysa is a member of the St. Vincent de Paul Catholic church in Seward and serves as a voice of the youth in her church, as well as an involved, loyal member of her local Godparent youth group.
Alysa has been employed by Sloup/Thorell Detasseling in Seward She also has worked as a local "Nanny" and worked extensively as a babysitter in the area. This last summer she was also employed at the Dowding Memorial Pool.
In the area of "Service Above Self," Alysa has worked with a variety of local campaigns of service to the community through her school clubs-FBLA, Skills USA and Key Club. She has also been very involved in community service projects through her 4-H Club –Shooting Stars, as well as with her activities and service at St. Vincent de Paul Catholic Church.
At this time, Alysa plans to attend the University of Nebraska at Kearney (UNK) and major in Physical Therapy.
Alysa was introduced at the Rotary meeting, recognized for her leadership and academic excellence and thanked for her "Service Above Self" activities. She was presented with some information and mementos from the Seward Rotary Club, a club banner and will be presented a "book scholarship" from the Rotary Club. Zabka Funeral Home in Seward and Rotarians Greg Zabka and Brad Perdue serve as the corporate sponsor for her book scholarship.
She will again be recognized at the May SHS Honors Night, presented her book scholarship and is now a candidate for the Youth Rotarian of the Year award and scholarship, announced that evening.
All SHS seniors are eligible for the Seward Youth Rotarian of the Month award. Applications are available at the SHS counselor's office, on E-Backpack or with Mr. Clark Kolterman in SHS Room 116. One student of the month is awarded for each month that school is in session.