Seward High Well Represented at Norris Quiz Bowl Tourney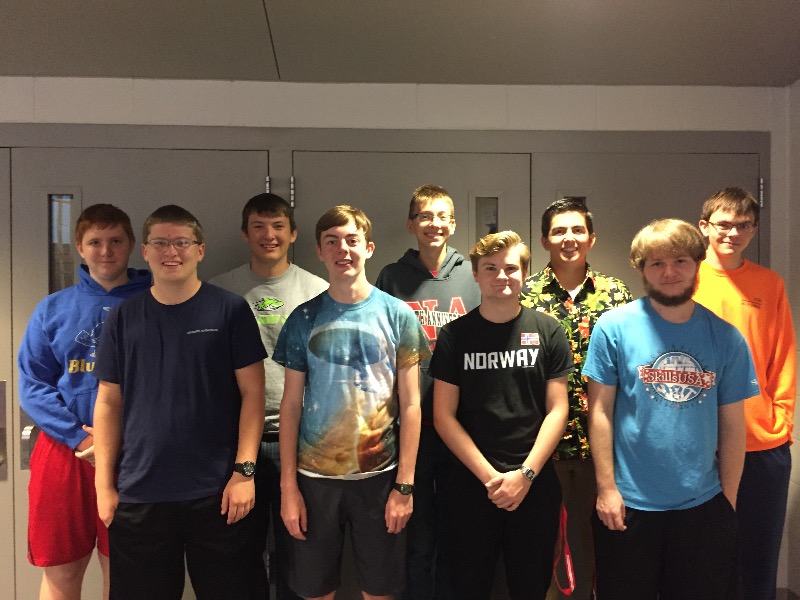 Three teams from Seward High participated in the recent Norris High School Quiz Bowl tourney, held on Saturday, September 16th in an all day, general knowledge quiz bowl competition against some of the most prestigious quiz bowl teams in the state! The Seward Quiz Bowl Team B competed through the semi-finals and into the consolation round to be named Fourth overall in the tourney. The SHS Quiz Bowl team placed into the quarter finals before losing to the eventful champion team.
The Seward Quiz Bowl Team B consisted of members Ryan Wall-Captain, Garrett Kuss, Jack Yelden and Brady Smith. They won all of their games in the morning "round robin" play and defeated Elkhorn High Team, the Creighton Prep C team and the Lincoln Northeast High team. They then were named Fourth Seed in the morning contests and defeated Lincoln Northeast, Elkhorn South and were beat by Norris High in the semifinals of the afternoon single elimination tourney. They were defeated in the last round by Creighton Prep B team in the finals for Fourth place.
The Seward Quiz Bowl Team A won two games in the morning round robin, defeating Lincoln Northeast and Freeman High Schools and lost to Creighton Team B, and were seeded seventh in the final, single elimination tourney. They then went on to defeat Lincoln East High and were eliminated in the quarterfinals, losing to Creighton Prep Team D. Their SHS Quiz Bowl Team A consisted of SHS seniors, Evan Nottingham-captain, Thomas Bosmeniel, Chase Prochnow and Chris Galusha.
The SHS underclassmen were represented by Jarod Harris-sophomore, who competed in the Freshman/Sophomore Quiz Bowl division. While his team did not win a game, consistent improvement was realized and will be a benefit in the future.
The team's coach/sponsor was Clark Kolterman, SHS teacher, who coordinated the Seward teams for the tourney. The next tourney is the Plum Creek Literature Tourney in Seward Sept. 27th followed by the Nebraska Wesleyan Quiz Bowl on Oct. 13th.
The teams are sponsored by the School District of Seward, High Ability Learner (HAL) program.