Evan Nottingham Named Youth Rotarian for October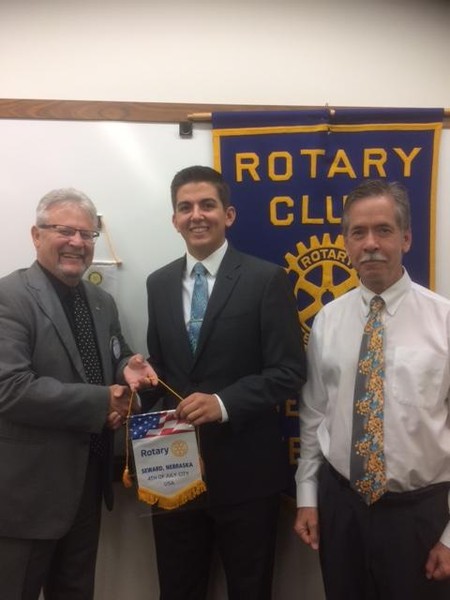 SHS Senior, Evan Nottingham of Seward, was named the October Youth Rotarian of the Month by the Sewa Rotary Club. He is the son of Dana and Danna Nottingham of Seward. He was honored at the weekly meeting of the Seward Rotary Club on September 27th at noon at the Jones National Bank and Trust in Seward and presented with a bag of Rotary and Seward mementos and information, along with a Rotary Club banner and a book scholarship. The corporate sponsor for the book scholarship is the Jones National Bank and Trust of Seward.
Evan is one of the top scholars in his class. He has consecutively been on the SHS Honor Roll since he moved to Seward from Colorado. He is a leader of the SHS National Honor Society and has taken many Advanced Placement and college level classes during his high school career. His ACT score is 35 and he is a National Merit Scholar Semi-Finalist.
He is very involved in various extracurricular activities at Seward High. He recently competed in the State Fair Education Division testing program and was named first place in the Grades 11-12 in Math and Science, Second in History, and Third in Grammar. He also won the Cipher Down contest.
Evan loves math and is a student leader in our math department, as he placed First in the 2015 Doane College TriMathlon, First in the 2016 UNL Math Days Quiz Bowl, and First in the 2016 American Math Contest (AMC) 10 and 2017 (AMC) 12!
He is a captain of the SHS Academic Decathlon team, captain of the SHS Academic Decathlon Quiz Bowl team and Captain of the very successful SHS Quiz Bowl team-competing is a variety of tournaments. Last year, their quiz bowl team was District Runner-up and Conference Champions.
Evan is also a member of the SHS Future Business Leaders of America (FBLA) Chapter and chaired the very successful toy drive for the CASA Children last Christmas-which now serves as a model for other CASA and FBLA Chapters.
He is a leader and captain of the SHS Speech team, competing in the area of Extemporaneous Speaking and Impromptu Speaking. He also competed and was a state finalist in the Optimist State Speech contest, placing Honorable Mention as a sophomore and Third Place as a junior. He also placed Second in the Seward VFW Voice of Democracy Speech contest last year.
He served as a counselor for the annual Seward Middle School Outdoor Education program this year and last. He is also a member of the SHS Ambassadors program.
His hobbies include the piano, Spanish, and public speaking. He enjoys working with computers and various programs involving the computer, and in very involved in the STEM program-promoting Science, Technology, Engineering, and Mathematics.
Evan is a leader in his local Boy Scout Troop at his church and was recently installed as an Eagle Scout. He has served in all the leadership positions for the troop and continues to serve helping the younger scouts.
He is extremely involved in his church in Seward, the Church of Jesus Christ of Latter Day Saints, and serves as the leader of his church youth group. Evan is also involved with the Seward LDS Early Morning Seminary program and has been since 2014.
Evan has been employed with Syngenta in the summer, working the fields and monitoring the growth of the crops. He has also personally owned a lawn care business: H"EVAN"LY Lawn Care.
His area of "Service Above Self" revolves around his volunteer work with the church--in a variety of avenues including leadership and music--involving hundreds of hours of service. He also chaired the CASA Children's Christmas toy drive and almost single handedly collected a car load of toys for the local CASA program, involving his local SHS FBLA Chapter as well.
Evan currently plans to attend Brigham Young University (BYU) in Provo, Utah. He will focus on the major of Chemistry with a minor in Spanish.
Evan is now a finalist for the Youth Rotarian of the Year award and scholarship and will be recognized again at the SHS Honors Night in May.
The Youth Rotarian is recognized monthly during the school year, honoring one SHS Senior a month, based on leadership, service and scholarship. Applications are available at the SHS Counselor's office, online and in room 116. Students must only apply once to be nominated.