SHS Ag Classes/ FFA Presented at Rotary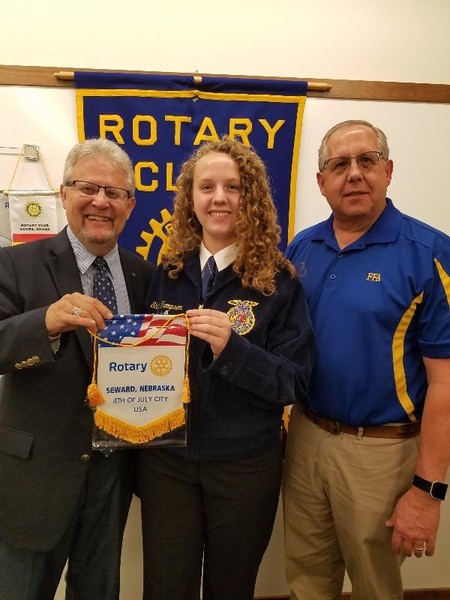 Seward High lead Ag instructor, Craig Frederick and SHS FFA Chapter President-Shea Thompson were the program at the recent Seward Rotary Club noon luncheon meeting on Wednesday, October 04, 2017 at the Jones National Bank and Trust auditorium. They were introduced by Rotarian of the Month-Greg Zabka.
Fredrick spoke on the new, unique Agronomy Academy 2016-17, a cooperative ag class for Seward, York and Centennial High Schools, sponsored by Monsanto, Syngenta, DuPont Pioneer, Dow AgriScience and Mycogen Seed. He is the lead instructor all year for this program, which is the only one of its kind in the state.
He also spoke on the Middle School program, which promotes Ag Literacy and Ag Education, and the high success level of participation at the Seward Middle School.
Fredrick commented on the variety of Ag programs offered by the Seward School District and commented on the high level of success of the local program. He spoke of the various local Ag Trips, sponsored by the FFA Chapter and thanked the community for their support of the program-highlighting some of the successful graduates from the local FFA program.
SHS Senior, Shea Thompson, the SHS FFA Chapter President, commented on the local SHS FFA program and the leadership opportunities of the 120 member FFA Chapter at Seward High. She gave some personal reflections and personal examples, on the SHS Ag programs influence on her career choice and the impact of the program for her.
She also spoke on the SHS Greenhouse program and that over 60% of the FFA Chapter in Seward are females and many do not even live on a farm.
The program concluded with a series of questions and answers concerning the program.