Seward High Wins State Fair Education Division Sweepstakes Award-Named Top High School at State Fair-2017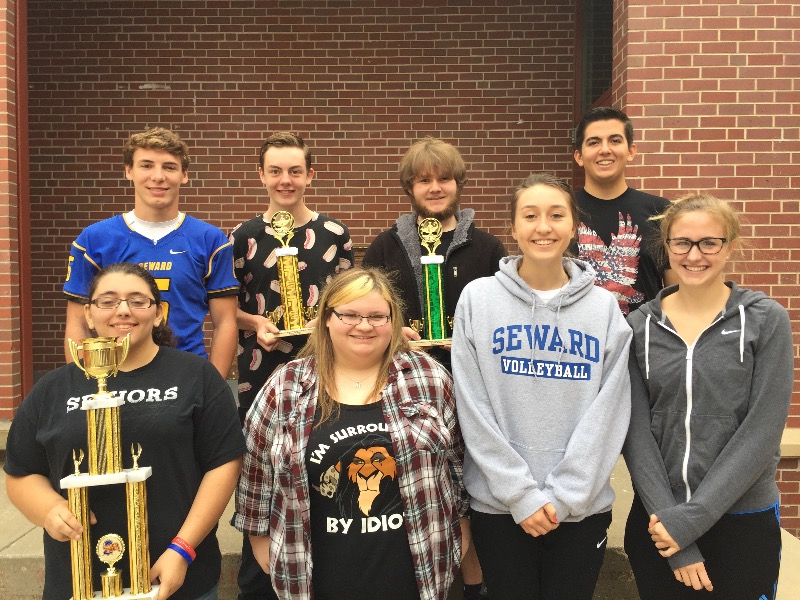 Seward High was named the overall Sweepstakes Winner in the Nebraska High School Division of the Education Division of the Nebraska State Fair-2017. Their win was based on number of entries, compared to size of the school and number of wins by the students in their school. Lincoln Public Schools placed second. This is the fifth year that Seward High has captured the High School Sweepstakes award.
In the area of individual Student Sweepstakes awards, Ryan Wall, a Junior at SHS, placed fifth in the Student Individual Sweepstakes award and Thomas Bosmeniel, a senior at SHS, placed sixth in the Sweepstakes contest.
Twelve First Place awards were won by Seward High students in the Education Division of the Nebraska State Fair during the Fair's Education Division competition. They were recognized at the recent SHS PRIDE Rally in the New SHS Theater on Friday, October 13, 2017. Winning First Place Awards and recognized were Evan Nottingham with First Place in both Science and Math Gr 11-12, Ryan Wall First Place in Science Gr 1-10, Stacy Damanhoury First Place in Cup Stacking, Thomas Bosmeniel First Place in both Monologue and Poetry Recitation Presentation, Makayla Olgevie First Place Short Story 11-12, Audrey Schanou First Place in Poetry Gr 11-12, Carson Core First Place in Poetry Gr 9-10, Sydney Erickson First Place Essay Gr 11-12, and Bailee Baack First Place Penmanship Gr 9-10! Congrats to Thomas Bosmineil honored as the Top Overall Presenter at the Fair and to Mrs. Pam Franck winning one of the major "Cipher Down" Awards! (Ask her about it!) All first place winners won a $100 Scholarship, a plaque, rosette ribbon and hand shake from Mr Kolterman!
Sponsors for the two days of contests were Mrs. Pam Franck and Clark Kolterman, instructors at SHS.