Seward Public Schools Wins NebraskARTS Award-Named Nebraska's Fine Arts School of the Year!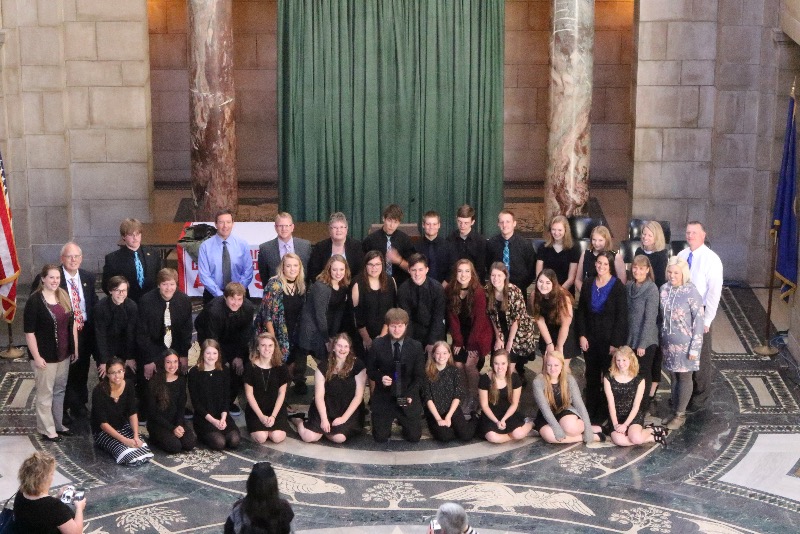 The Seward Public Schools was presented the NebraskARTS Award by the State of Nebraska and the Nebraskan's for the Arts and named Nebraska's Fine Arts School of the Year in a special awards ceremony at the Nebraska State Capitol on Wednesday, October 18, 2017. The award was presented by Doug Zbylut, Executive Director of the Nebraskan's for the Arts. Accepting the award for the School District of Seward was Dr. Josh Fields. Also recognized was Schuyler Community Schools with the same award, as two schools are recognized annually. This is the fifth year for the program.
Comments were presented to the honorees and those in attendance by Congressman Jeff Fortenberry –as both schools are in Congressional District #1. Congratulations was also extended by Nebraska State Senator Mark Kolterman, who is also an alumni of Seward High and was involved in a variety of the SHS Fine Arts Programs while attending Seward Public Schools.
The Seward School District's Fine Arts Department was invited to present and showcase some of the examples of Fine Arts at Seward High. Former SHS Art Instructor, Elizabeth Thomson and current SHS Art Instructor, Nate Knott prepared a slide show of examples of student art work that was projected on the wall of the Capitol during the presentations.
The Seward High Jazz Band, under the direction of Amanda Kenney, presented two selections, including El Rey Del Sol by Gregory Yasinistky and American Patrol by Art Dedrick. The members of the SHS Jazz Band include: Nathan Snavely, Emily Lintt, Samantha Rowjeski, Sheldon Bale, Claire Novak, Samantha Warren, Jacee Wiesen, Thomas Ringler, Vilynn Decker, Stefan Gligorevic, Abby Rood, Blair Souchek, Nikolas Gligorevic, Kiernan Baker, Camryn Jensen, Jacob Potratz, Ryan Wall and Levi Homp.
Seward High Vocal Department was represented by the Seward High Vocal Performance Class, under the direction of Leslie Stratton, singing: "Take Me Home"-by Roger Emerson. Members of the SHS Vocal Performance Class include: Molly Newburn, Nathan Snavely, Isabel Sermeno, Elizabeth Schultz, Hailey Lewis, Katryna Rukas, Jenna Williams, Jacee Wiesen.

The Seward High Speech/Drama Department, under the direction of Clark Kolterman, featured Poetry- So This is Nebraska by Ted Kooser, presented by Thomas Bosmeniel.
Seward High's Fine Arts presentation concluding with the song "Beautiful Nebraska" by Jim Fras –presented by Abby Van Velson-Violin and sung by Tabitha Ristvedt.
Fine Arts Instructors at Seward Schools were recognized and thanked at the ceremony and include…Adam Janda-Seward Elementary Music, Jill Bisbee-Seward Middle School Vocal Music, Dan Frisbee-Seward Middle School Instrumental Music, Amanda Kenney-Seward Middle School Instrumental Music, Tyson Horn-Seward Middle School Art, Leslie Stratton-Seward High Vocal Music, Dory Von Kampen-Seward High Musical, Pam McConnell-Seward High Vocal Music Accompanist, Amada Kenney-Seward High Instrumental Music, Jim Krutz-Seward High Instrumental Music, Nate Knott-Seward High Art, Clark Kolterman-Seward High Drama/Speech, Melissa Pohl, Seward High Speech, Jenny Pinkall-Seward High Dance Instructor, Stacy Piskorski-Seward High Dance Team Sponsor, and Pat Brauer-Seward High Language Arts Department Chair.