Thomas Bosmeniel, SHS Senior, Wins District 12 American Legion District Speech Contest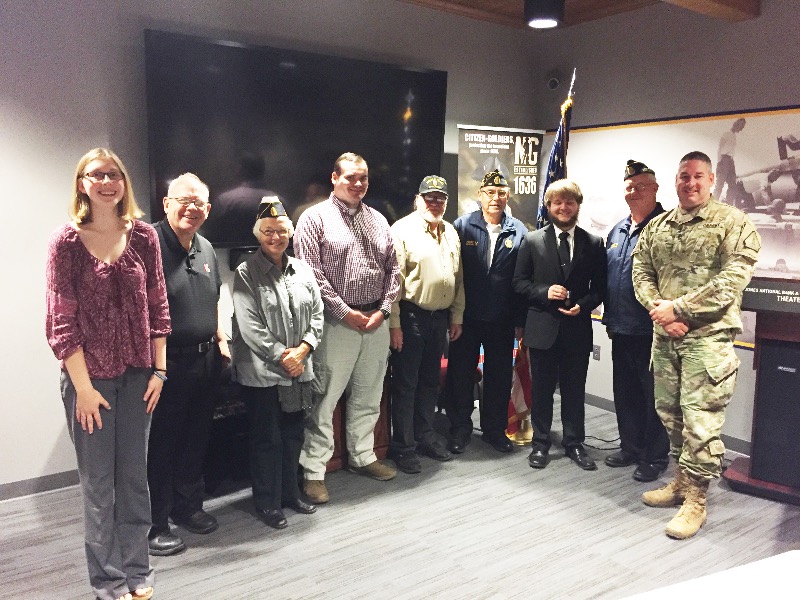 Seward High Senior, Thomas Bosmeniel of Ulysses won the District 12 American Legion Oratorical/Speech Contest on Sunday, November 4, 2017 at the new Nebraska National Guard Museum in the Jones National Bank Theater at the American Legion oratorical competition. He is the son of Raul Bosmeniel of Lincoln and Anna Downing of Ulysses. Local Post Commander, Jim Ehlers welcomed the group and led them in the Pledge of Allegiance to the United States. Ken Meyer, also with the Seward Legion Post, hosted the group and assisted with arrangements. District 12 Chair of the Event is Bonnie Brewer of Elmwood. Gerry Meyer, Director of the Nebraska National Guard Museum, hosted the activity.
Thomas wrote and presented a ten minute memorized speech on the US Constitution and then drew Amendment #2 and spoke for five minutes in an extemporaneous speech on that amendment. The title of his memorized, prepared speech was "Our Living Constitution!" Bosmeniel was selected the District Champion last year and continued in the contest, winning his regional contest and placing third overall at the State American Legion contest last year.
Volunteer judges for the event were Sergeant First Class Roberto Vega-Lincoln of the Nebraska National Guard, CU Senior Zane Francescato of Alamosa, Colorado and US Veteran/Legionnaire and VFW member Greg Holloway of Bee. SHS student Madalyn Lobmeyer served as volunteer timer and score keeper.
Thomas was sponsored by the local Seward Nebraska American Legion Post-#33. His speech coach and sponsor for the contest was Clark Kolterman. Thomas won a medal, certificate and a check for $100. He will now advance to the American Legion Area/Regional Oratorical Contest on December in Minden.
Refreshments followed compliments of the Nebraska National Guard Museum Historical Society.