Kelsie Zadina Named Rotary Youth Rotarian of the Month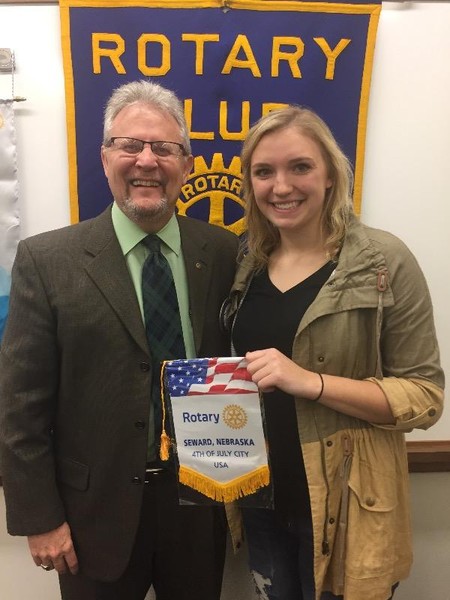 SHS senior, Kelsie Zadina was named the Youth Rotarian of the Month for November and honored at the November 15 Rotary meeting. She is the daughter of Kevin and Angie Zadina of Seward. She was introduced, presented with some Rotary information and mementos and a book scholarship. She is also a finalist for the Youth Rotarian of the Year award.
Kelsie is an Honor student and on the SHS Honor roll every quarter. She is a leader and longtime member of the SHS National Honor Society.
Kelsie is an involved leader in numerous athletic activities as Seward High. She participated in SHS Volleyball for all four years of her high school career. She is also a four year member of the SHS Basketball team and participated in SHS Track for two years. She has garnered many athletic honors as a result of her athletic ability-earning Varsity letters in Volleyball, Basketball and Track. She was named Academic All State in Volleyball 2016 and Basketball 2016 and named First Team All-Conference in Basketball, Second Team All-Conference in Volleyball and All State Honorable Mention in Basketball.
She is also a very involved young lady in service to others, as she is a longtime member and leader in the SHS Key Club, FFA and Skills USA. She is very involved in various service projects through these clubs at the high school, as for example she collected money for UNICEF for Key Club and was a leader in the Key Club Multi-Cultural Fair in January every year, and worked with the Avenue of Flags ceremony as well.
Kelsie is involved in the Jr. Jays' Mentoring Program and continues to work with young children in the SHS Youth Volleyball and SHS Youth Basketball Camps.
She is employed at the Seward County Independent during the summers, working at various jobs and holding several responsibilities at the paper.
She enjoys working with Senior Center Computer Class participants at the Seward Senior Center.
Kelsie is a loyal member of St. John Lutheran Church in Seward and also a voice in her church's youth group and very active with her local Godparent group in her church.
Her "Service Above Self" is in the extensive hours devoted to the Youth Basketball and Volleyball camps over the years, assisting and working with the younger girls, to develop them into stronger players and teammates.
Her plans after high school are undecided as to which college to attend, however she thinks she will be involved in some aspect of architecture.
The Seward Youth Rotarian Award is presented monthly during the school year and forms are available at the SHS Counselor's office. The finalists will all be honored and recognized at the annual Honor's Night in May, where the Rotary will announce the Youth Rotarian of the Year award.