SHS Sophomore Madalyn Lobmeyer of Seward Wins "Local Poetry Out Loud" recitation contest!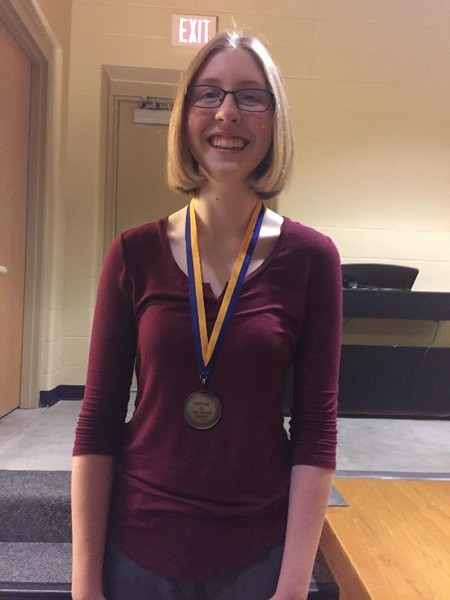 SHS Sophomore, Madalyn Lobmeyer of Seward was selected the Poetry Out Loud Champion at Seward High and the representative to the Regional contest in Norfolk next spring: selected over 40 other contestants in the local contest at SHS. She presented the memorized poem "The Last Laugh" by Wilfred Owen. First runner up was Thomas Bosmeniel-SHS Senior, with the poem "Battle Hymn of the Republic" by Julia Ward Howe. Third place was awarded to SHS Senior Kenna Gottschalk presenting the poem "The Daring One" by Edwin Markham.
Other awards were presented to Outstanding Sophomore presenters-(Tie) to Cordell Vrbka presenting Ted Kooser's "So This is Nebraska" and Hannah Bales presenting "Bookshelf of the God by Jeffrey Skinner. Bailey Mooney was "Outstanding Junior" presenting Invictus by William Ernest Henley and John Mark Myers was named "Outstanding Senior" with his presentation of "In Flander's Field" by John McCrae. All of the winners received engraved medallions, honoring their award sponsored by the Seward Arts Council.
The "Poetry Out Loud 2017" recitation contest was held at the new Theater of Seward High School on Monday, December 04, 2017. It is a local Poetry Recitation Contest to select a representative for the Regional contest. Speech coach at SHS Clark Kolterman served as the emcee for the evening.
Local SHS students competing in the contest and their poems included….
Ambria Van Engelenhoven Catch a Little Rhyme Eve Merriam

Abbey Bimler The Road Not Taken Robert Frost

Macy Gebhardt Mowing Robert Frost

Colton Hill Fable for Blackboard George Starbuck

Cordell Vrbka So This is Nebraska Ted Kooser

Jonathan Svoboda 300 Goats Naomi Nye

ME Porter Dawn Chorus Sasha Dugdale

Alyssa Owens Auto-Lullaby Franz Wright

Ethan Ideus Fire and Ice Robert Frost

Aaron Block Acquainted with the Night Robert Frost

Sean Martin Catch a Little Rhyme Eve Merriam

Rochelle Hurley Carousel Jaya Savige

Amber Gadeken Across the Bay Donald Davie

Destiney Grunke The Arrow and the Song Henry Wadsworth Longfellow

Jill Johnson Faith David Baker

Jordan Covert Yellowtail Mary Morris

Wade Kelley She Walks in Beauty Lord Byron

Jordan Collins Author's Prayer Ilya Kaminsky

Ariana Anderson Mrs. Adam Kathleen Norris

Alexis Hiser Difference Stephen Vincent Benet

Alexandra Sierra Stopping By the Woods Robert Frost

Cassandra Kottich After the Winter Claude McKay

Hannah Bales Bookshelf of the God Jeffrey Skinner

Bria Schulz 300 Goats Naomi Nye

Larissa Embree Hope is the Thing with Feathers Emily Dickenson

Garrett Erickson Fire and Ice Robert Frost

Edward McConnell Adam's Curse William Butler Yates

Madelein Woolard Road Not Taken Robert Frost

Gillian Mettenbrink Song Edmund Waller

Haley Marshall Yellowtail Mary Morris

Victoria Rudebusch End of Summer Stanly Kunitz

Mikayla Rudebusch Broken Promises David Kirby

Taylor Brodecky Testimonial Rita Dove

Nolan Whitney Anthem for Doomed Youth Wilfred Owen

Madalyn Lobmeyer The Last Laugh Wilfred Owen

Jarod Harris Numbers Mary Cornish

Kenna Gottschalk The Daring One Edwin Markham

Peyton Davis-Schmit Entirely Louis MacNeice

John Mark Myers In Flanders Fields John McCrae

Bailey Mooney Invictus William Ernest Henley

Thomas Bosmeniel Battle Hymn of the Republic Julia Ward Howe
The students were evaluated on Physical Presence, Voice and Articulation, Dramatic Appropriateness, Evidence of Understanding, Overall Performance and Accuracy.
Judges for the evening were Ms. Melissa Pohl-Accuracy Judge, with Poetry Judges-Eric James-Student at Concordia University, Erin Collings-School District of Seward Curriculum, Nancy Schulz-East Butler HS (Retired). Pam Franck and Kyle Hinkel of the SHS Math Department compiled the judge's tallies and presented the results. Riley Nuttleman, SHS Senior, served as the lighting and sound tech crew and assisted in the tally room.
Pippa White of Lincoln, a nationally acclaimed writer and actress, served as our SHS "Poetry Out Loud" Guest Artist in Residence in November. The state level of the Poetry Out Loud Contest is sponsored by the Nebraska Arts Council under the supervision of Anne Alston and nationally by the national Poetry Foundation and National Endowment for the Arts!
Madalyn will now compete at the Regional level in Norfolk in the spring and hopefully at the State Contest in March in Lincoln. At the regional she will recite two poems and at the state level three poems.