SHS FBLA Sponsors Successful Christmas CASA Kids Gift Project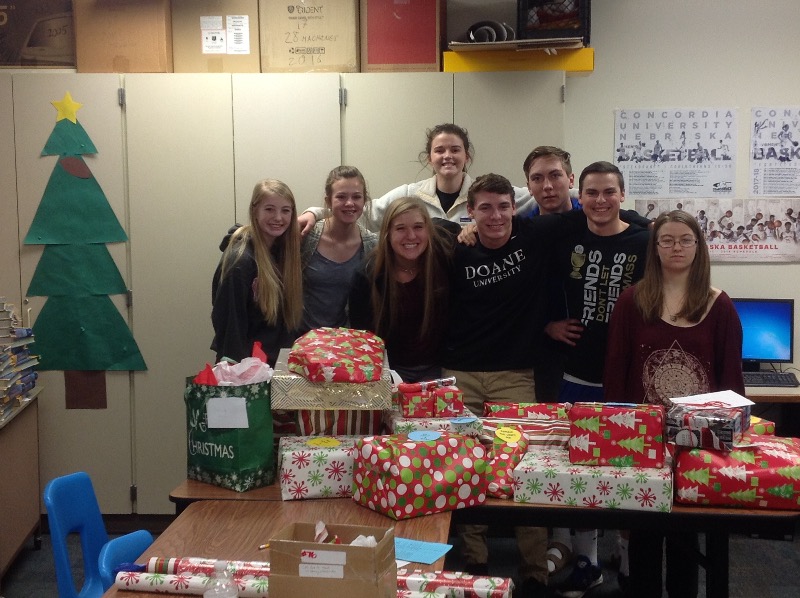 Under the guidance and leadership of the SHS FBLA project chairs freshmen Emma Kuss, freshmen Anna Hughes, and senior Alishea Johnson. The SHS Future Business Leaders of America (FBLA) co- sponsored a toy drive to collect gifts and toys for local CASA children in the greater Seward area. This is the 2nd year for Seward FBLA to participate in this project after senior member Evan Nottingham started the cooperation with the local CASA agency a year ago. This year, a variety of FBLA members and other SHS students actively participated in asking for donations,
Students from Seward FBLA created a tree for FBLA adviser Wade Miller's classroom. The tree included ornaments that had information on each CASA child, including the ages and the sex of each CASA sponsored child. As a result, over 25 gifts were collected, specifically addressing at least one gift for each child-involved win the CASA program. The FBLA appealed to the students at Seward High, and as a result, individual students and teachers decided to sponsor CASA children.
Once the gifts were collected, Emma, Kuss, Anna Hughes, Kate Mullally, and Alishea Johnson led the effort to make sure all the gifts were wrapped and ready to go.
"I could not believe the out pouring and generosity of the students here at Seward High" declared Amelia Hanson, local FBLA president. "This project exemplifies all the good in people in Seward and that people of all ages really do care about others! Indeed, it is what Christmas is all about-caring and helping!"
"We are glad the FBLA could take a leadership role in this effort to assist others, stated advisor Wade Miller. "Leadership and Caring are two of the pillars of FBLA and this project fits so well with the mission of our group FBLA. We appreciated how the students of SHS stepped up to help the CASA program and assist us with this project. Thank you SHS and Seward Community!"