SHS Drama Class Presents Christmas Readers Theater at Ridgewood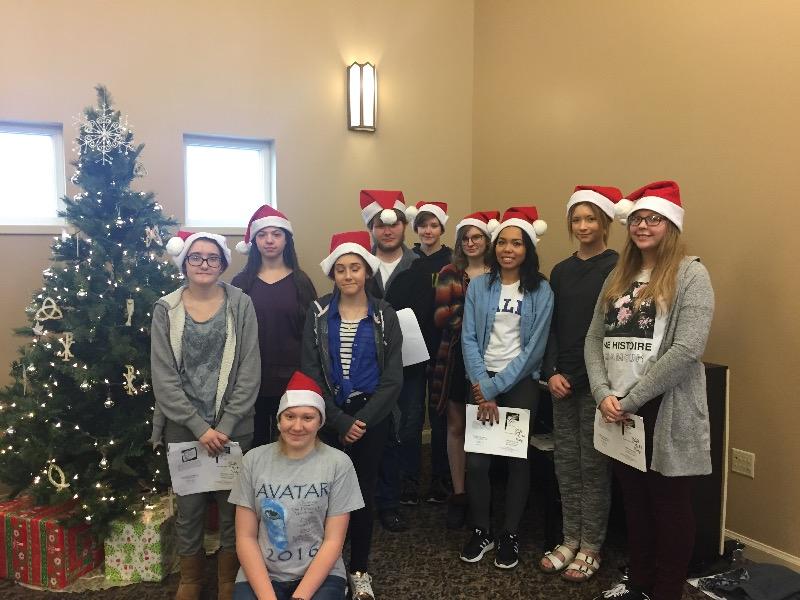 The 2017 SHS Drama Class presented a Reader's Theater with a Christmas theme at the Seward Ridgewood Care Center on Wednesday, December 20, during their 5th hour class period at the end of the school day.
The group presented a "Readers Theater" version of the Christmas story by O. Henry's, The Gift of the Magi, adapted by Mindy Sterns Clark. The adaptation was presented by SHS students Thomas Bosmeniel, Kiona Coe, Mikayla Rudebusch, Victoria Rudebusch, Ambria VanEngelenhoven, Mattie Stillahn, Ariana Anderson, Teanna Hurley Washington, Alexis Hiser and Taylor Brodecky. Their teacher is Clark Kolterman.
Following the presentation, selected memorized poetry was recited by the students from their Poetry Out Loud competition-with presentations of recited poems by Keona Coe, Thomas Bosmeniel, Mattie Stillahn and Taylor Brodecky. The group concluded with a series of Christmas carols and well wishes to the residents of Ridgewood Care Center.