Seward High Competes at First Quiz Bowl of 2018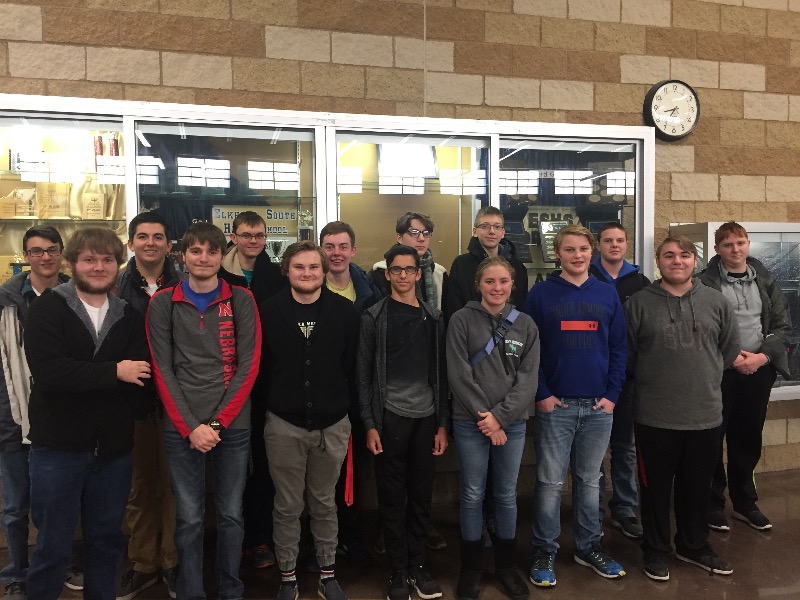 The first high school quiz bowl for 2018 was held at Elkhorn South High School on Saturday, January 6, 2018 in an all day, general knowledge tourney. The event featured 42 teams competing in two categories-Novice and Varsity levels of high school students.
Competing from Seward were Varsity teams Seward Gold-Ryan Wall, Evan Nottingham, Chris Glusha and Jack Yelden and Seward Blue-Thomas Bosmeniel, Chase Prochnow and Clint Koetter. The two SHS Novice teams included Seward Gold-Garrett Erickson, Jarod Harris, Ashton Conner and Isaiah VanBeek and Seward Blue-Emily Gokie, Andrew Alley, Rory Nolan and Braden Adams.
"This was a major tourney in Southeast Nebraska and all of our teams were very competitive. We were one of the top Class B teams in the tourney and it is always good to face strong competition-it makes us better," stated Ryan Wall of the Varsity Gold team for SHS.
"I feel we will continue to learn and improve with each meet," commented Evan Nottingham of the Varsity Gold team. "We are looking to finish the season strong, with a strong spring set of tourneys ahead!"
The event featured a Round Robin contest in the morning to determine placings for the afternoon tourney, based on wins and points generated. In the morning, the Seward Varsity Gold team won all of their matches-and were 5th seed in the afternoon, and Seward Varsity Blue won two of their four matches and was 10th seed in the afternoon tourney. The Novice Gold team won of their three matches and were 4th seed, while the Novice Blue team won split it and won two and lost two games in the morning rounds and was the 10th seed in the Novice afternoon tourney.
The Varsity Gold enjoyed a bye in the afternoon and then defeated Ralston High but lost to Creighton Prep in the afternoon. The Varsity Blue lost to Omaha Central in the afternoon and the Novice Gold defeated Columbus to go on and lose to Norris, while the Novice Blue lost to Omaha Central.
Winning the Varsity Tourney was Elkhorn South, with Creighton Prep as the runner-up and winning the Novice tourney was Norris High with Creighton Prep as runner-up.
The teams were coached by Clark Kolterman.