SHS FCCLA Collects Tee Shirts for Living Water Mission-Exceeds Goal of 333 Tees for 2018!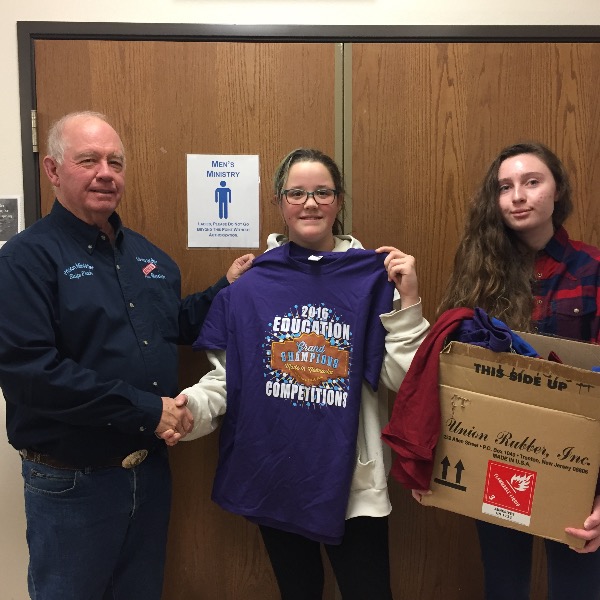 In a effort to assist the homeless-one shirt at a time, the students of Seward High gathered 341 new and nearly new tee shirts for the homeless and those in need of clothing, donating them to the Living Water Rescue Mission in York. The original goal was 333 tees. The local campaign was coordinated by the members of the Seward High School Family Community, Career Leaders of America (FCCLA), chaired by local FCCLA volunteer member, SHS freshman, Hannah Kolterman-Wagner and Miriam Voehl. The tees were donated to the York Mission during his Christmas holiday vacation. This is the fifth year the local FCCLA has promoted this project for the Living Water Mission.
Miriam Voehl decided that one small way to assist the homeless was to gather/collect tee shirts for those in need and issued a call to the local high school students to gather tee shirts for people who would use them and appreciate them.
"Most high school students have a drawer full of tee shirts that they never wear and we felt it was a way to help clothe the homeless," said Hannah Kolterman-Wagner. We appreciated all the donations and everyone involved was glad to donate. We would like to thank the community and students for helping with this project."
"Originally, our goal was "A Ton of Tees!" but because of the Christmas holiday vacation, our collection goal was modified to 333 tees," stated Voehl. "But the "333 Tees" goal also has a good ring to it and it all helps the cause of aiding the homeless and less fortunate. This project really opened all of our eyes to the need and that poverty does exist everywhere in the USA-not just on the coasts."
"In many ways this is also a very good example of recycling," continued Kolterman-Wagner, "as these tee shirts are being put back into use and actually doing some good for someone, instead of just sitting in a drawer and never being worn."
The members sorted, folded, boxed them into cases and delivered the tee shirts to the Living Water Rescue Mission in York. The boxes and bags of tee shirts were delivered to the mission. The girls were invited to tour the facility and discover first hand, the needs of the homeless. They discussed other ways that their local SHS FCCLA Chapter might serve those in need at the Mission.
The Living Water Rescue Mission is located at Living Water Rescue Mission, 701 S. Lincoln Avenue, York, NE 68467 402-362-1027 or visit info@lwrmyork.org The concepts of helping the homeless and recycling are two of the pillars of service for the FCCLA this school year 2017-2018. The girls hope to use this as part of their FCCLA STAR presentation/project for 2018.