Thomas Bosmeniel Awarded First Runner-up at State American Legion Speech Contest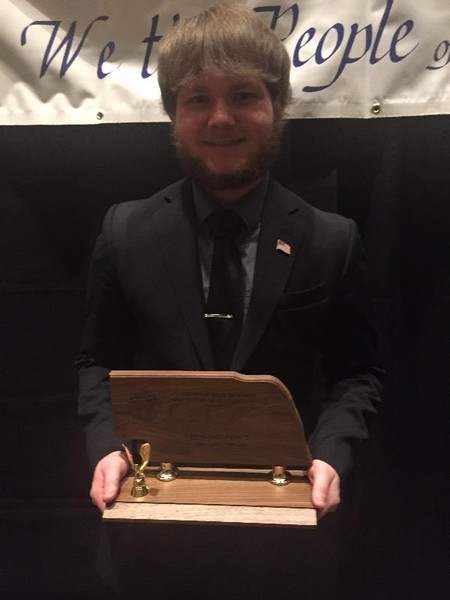 Thomas Bosmeniel, Senior at Seward High, placed First Runner-Up in the recent American Legion Oratorical Contest sponsored by the Nebraska Department of the American Legion in North Platte, Nebraska on Saturday, January 13th at the Sandhills Conference Center. The Oratorical Contest was a feature of the Nebraska Department of the American Legion Mid-Year Conference.
Thomas was asked to write and present a memorized ten minute speech on some aspect of the US Constitution. His ten minute memorized speech was titled "The US Constitution-A Living Constitution!" He was also asked to speak for five minutes on one of the US amendments, which they drew at the conference. He was directed to speak on Article 2 Section 4: "The President, Vice President and all Civil Officers of the United States, shall be removed from Office on Impeachment for, and the Conviction of, Treason, Bribery or other high Crimes and Misdemeanors."
Thomas was sponsored by the Seward American Legion Post #33 and first won the District Contest and the Regional contest to compete at the State Contest. He received a large Nebraska trophy and a check for $600, along with a $100 check for being the District/Regional winner.
The winner in the State Contest was Michael McClellan of Omaha Creighton Prep High.
Thomas is the son of Anna Downing and Raul Bosmeniel. Thomas Bosmeniel's speech coach is Clark Kolterman of Seward.