Speech Team Kicks-Off Year at Concordia University Speech Tourney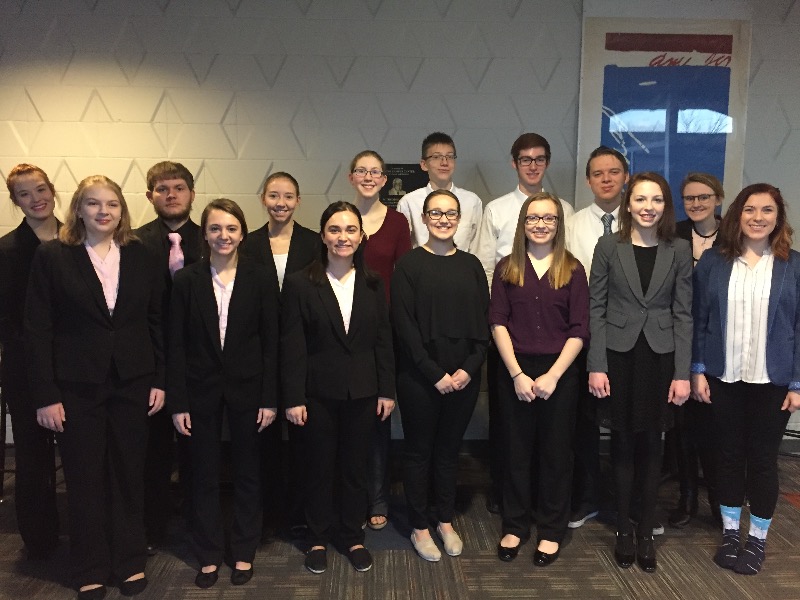 The SHS Speech team started their year of competition attending the Concordia University Speech Tournament at Concordia University in Seward on Saturday, January 20 in an all-day event. Over 350 entries were presented by almost 300 students during the day.
Attending the tourney and representing Seward High were Thomas Bosmeniel - Duet and OID, Madalyn Lobmeyer- Impromptu, Persuasive and Informative, Greta Hughes - OID, Emily O'Kief-OID, Virginia Glaser-OID, Poetry, Macie Spokanski-Duet, Persuasive, Peyton Davis-Schmidt-Duet, Cayden Glandt-Informative, Kenna Gottschalk-Poetry, Bailey Mooney-Poetry, POI and Impromptu, Kenna Piskorski-Serious Prose, Jarod Harris-Extemp, Impromptu, Entertaining, Mark Myers-Persuasion, Extemp, Alex Sick-Poetry, Abby VanVelson-OID, Informative. Coaches for speech at SHS are Clark A. Kolterman and Assistant Coach Melissa Pohl.
Thomas Bosmeniel and Virginia Glaser qualified for finals and won Fifth Place with their Duet-"Pig Hives" and Greta Hughes, Thomas Bosmeniel, Virginia Glaser, Abby VanVelson and Emily O'Kief won Third place in finals for their Drama Team presentation "Misery" by Stephen King. Receiving Superior ratings were Madalyn Lobmeyer, Greta Hughes, Virginia Glaser, Thomas Bosmeniel, Macie Spokanski, Cayden Glandt, Kenna Gottschalk, Bailey Mooney, Peyton Davis Schmidt, and Jarod Harris.
Local judges for the event for SHS were Melissa Pohl, Emma George, J. Sick, and Clark Kolterman.
The team will attend speech meets yet this year at Osceola, Aurora, David City, David City Aquinas and Waverly, plus Central Conference at Columbus Lakeview and Districts at Lincoln.