Thomas Bosmeniel Awarded State Finalist at State VFW Speech Contest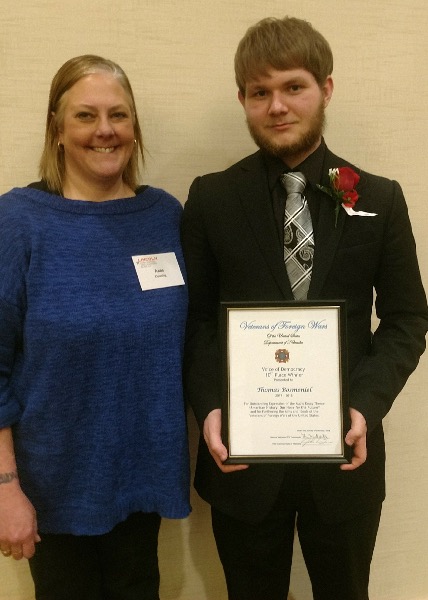 Thomas Bosmeniel, Senior at Seward High, was named a State Finalist in the Oratorical Contest sponsored by the Nebraska VFW and Auxiliary on Feb. 1, 2018 at the Governor's Mansion in Lincoln. The Oratorical Contest state finalist were introduced and awarded placement at the gathering. Bosmeniel placed 10th overall with over 1300 participating in the contest this year.
Thomas was asked to write and record on a CD a five minute speech on the assigned topic "American History Our Hope for the Future!"
Thomas was sponsored by the Seward VFW Post #4755 and their Auxiliary. He won the local contest over 120 students and the District 9 contest to compete at the State Level and be named a State Finalist. He received a check at the state level for $250 cash.
Thomas is the son of Anna Downing and Raul Bosmeniel. Thomas Bosmeniel's speech coach is Clark Kolterman of Seward. Greg Holloway is the local VFW Voice of Democracy Speech Chairman for the Seward Post #4755.