Seward High Speech Team Successful at Aurora Speech Tourney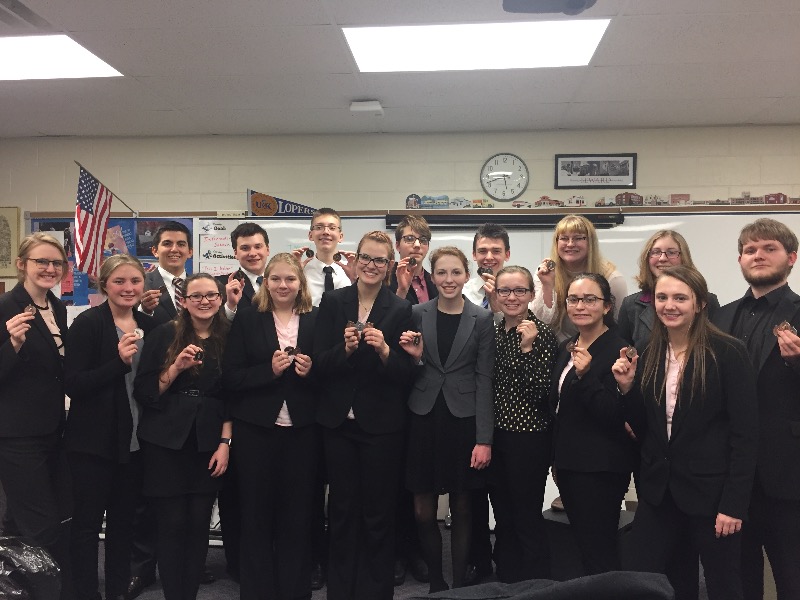 The SHS Speech team members won 25 individual medals and their Novice Team was named First Runner Up in the Sweepstakes contest, with the Varsity placing 5th in the 30 team contest.
Students winning medals included Madalyn Lobmeyer-N. Persuasive First, Informative Second, Cordell Vrbka-N. Entertaining Second, N. Humorous Eighth, Abby Van Velson-Informative 10th, OID 14th, Macie Spokanski-Persuasive 15th, Hannah Roebke-N. Persuasive Ninth, Emily Goekie-N. Persuasive Seventh, Alex Sick-Persuasive Fifth, Evan Nottingham-Extemporaneous Seventh, Jarod Harris-N. Extemp-Eighth, Seth Van Engelelhoven-N. Extemp Eighth, Thomas Bosmeniel-Serious 12th, OID 14th, Duet Second, Nora Halder-Serious Eighth, Rory Nolan-Serious Seventh, Poetry Virginia Glaser-Poetry Third, OID 14th, Duet Second, Bailey Mooney-Poetry 15th, Greta Hughes-OID 14th, Emily O'Kief-OID 14th.
Students wining a superior rating included Madalyn Lobmeyer, Abby Van Velson, Elizabeth Gokie, Cordell Vrbka, Jarod Harris, Alex Sick, LaToya Bauman, Rory Nolan, Nora Halder, Gracie Sullivan, Mason Larson, Seth Van Engelenhoven, Evan Nottingham, Bailey Mooney, Shea Thompson, Greta Hughes, Emily O'Keif, Macie Spotakski, and Hannah Roebke.
Clark Kolterman serves at the SHS Speech coach, with Melissa Pohl serving as the Assistant Speech Coach. SHS judges attending were Emma George, Austin Dybadahl, Austin Van Velson and Jeanna Sick, plus Kolterman and Pohl.