SHS Students Assist with Nebraska's Arts Awareness Day at State Capitol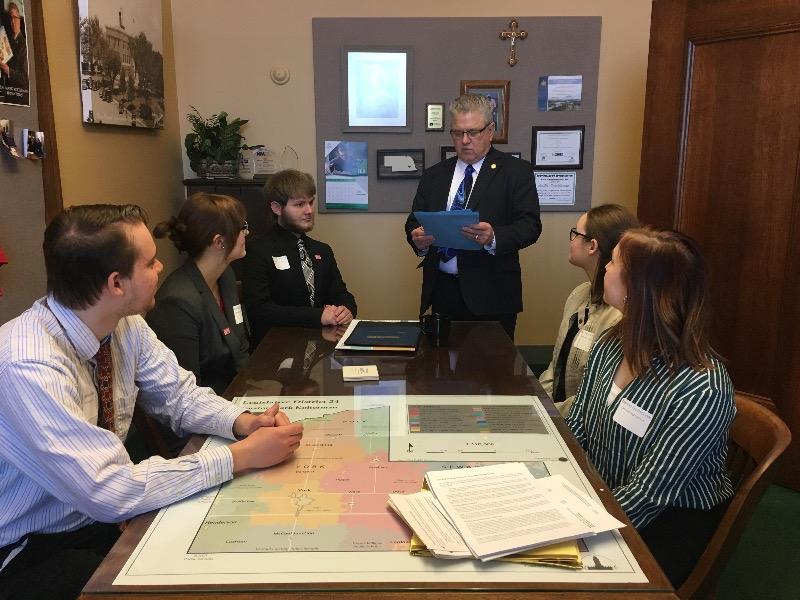 Five Fine Arts students and their teacher represented SHS at the recent Nebraska Arts Awareness Day at the State Capitol in Lincoln on Tuesday, Feb. 13th. Attending and representing various Fine Arts programs at Seward High were students John Mark Myers, Virginia Glaser, Thomas Bosmeniel, Peyton Davis Schmit, and Kenna Gottschalk. The students are all also members of Clark Kolterman's Advanced Speech/Competitive Speech class. The entire day was sponsored by the Nebraskan's for the Arts organization and involved a host of art agencies from across the state. SHS was asked to participate, as the school was selected the Nebraska Fine Arts School of the Year and won the 2017-2018 NebraskARTS Award.
The students arrived early and were stationed at the various doors to greet/welcome the guests to the capitol that morning and make them aware that it was Nebraska Arts Awareness Day. They also were encouraged to meet with their Senators.
The students were greeted by Senator Mark Kolterman and invited to a meeting with him in his office conference room. He shared his thoughts on the recent Nebraska Legislative year to date and spoke on the process of handling a bill. He also commented on the bills that are being studied, as well as the process on his bills that are pending.
Kolterman then invited the students to the Legislative Hall and had the Speaker of the House introduce them, as they observed the Legislature from the North Balcony/Gallery. Kolterman also sponsored a Legislative resolution, passed by the entire Nebraska Unicameral saluting and acknowledging Seward Schools as the "Nebraska Fine Arts School of the Year," congratulating the outstanding educational system at Seward and recognizing them for their successful and effective programing for the Arts for grades K-12!
The students concluded the day with a special tour of the capitol, highlighting the various examples of art created for the capitol.