Broc LaVelle Last Youth Rotarian for 2017-2018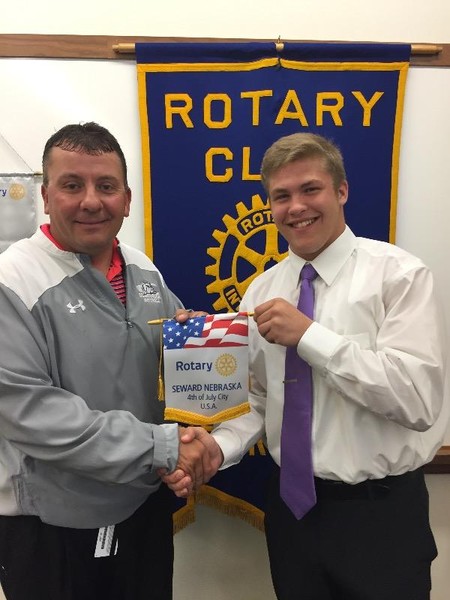 SHS Senior, Broc LaVelle was selected the last Youth Rotarian for 2017-2018, honoring him as the May Youth Rotarian of the Month. He is the son of Todd and Mindy LaVelle of Seward. Broc was honored at the recent Seward Rotary Club meeting on Wednesday, May 2 at the Jones National Bank and Trust Co. Auditorium in Seward. He was presented some Rotary Mementos, a Rotary Banner and a "Book Scholarship" from the Seward Rotary Club.
Broc is one of the senior athletes at SHS. He participated in the SHS Football program all four years and was named Captain of the team his senior year. He lettered in football two years and was on the SHS State Qualifying Football team his Freshman year. He was named "Most Inspirational" player by the Seward Football coaches/team in 2018 and was All District First Team in Football.
In SHS Wrestling, he also participated in the program all four years, winning a wrestling letter all four years as well. He was a State Qualifier his senior year in wrestling. He was named "Most Improved" wrestler in 2018 and was both Conference Runner-up and District Runner-up in wrestling. He was rated #6 in wrestling at 182 Class B in the State. He won the "Jeramie Schoepf" Leadership Award for wrestling in 2018
He played SHS Baseball one year and American Legion Baseball as well. He served as Assistant Baseball Coach for the Jr. Jays for two years.
Broc has participated in the SHS Track program for three years and has lettered all three years. His track event is the open 800.
Broc has been a student aid for the Seward Elementary Kindergarten class this year, volunteering as a role model for the first year students.
Broc has been a member of the SHS Honor Roll and participated in the Agronomy Academy for one year. He participated in the SHS VFW "Voice of Democracy" program as a sophomore.
Broc is a loyal member and leader in the SHS FBLA program and participated in a variety of activities for the organization. He is also a three year member of the local SHS FFA program and has contributed in the area of community service through FFA.
He is a dedicated member of the Seward United Methodist Church, active and a leader in their local Godparents program all four years and a strong voice of the youth in the congregation.
He was a member of Team Elite Detasseling Company for six years, and will be the supervisor for Team Elite this year. This summer he will be employed by Plum Creek Ag and work in a leadership position.
His area of "Service Above Self" is found in coaching and working with a variety of young adults in various youth sports camps. Brock is a longtime, ready volunteer and has assisted with many youth camps during the summer and has devoted many hours to the Midget Wrestling program at Seward. He feels the program influenced him and he has devoted many hours assisting their efforts to train young wrestlers.
He plans to attend Southeast Community College in Beatrice in the area of Agriculture/Business