SHS Sophomores Attend Sophomore Pilgrimage at State Capitol-Meet Senator Kolterman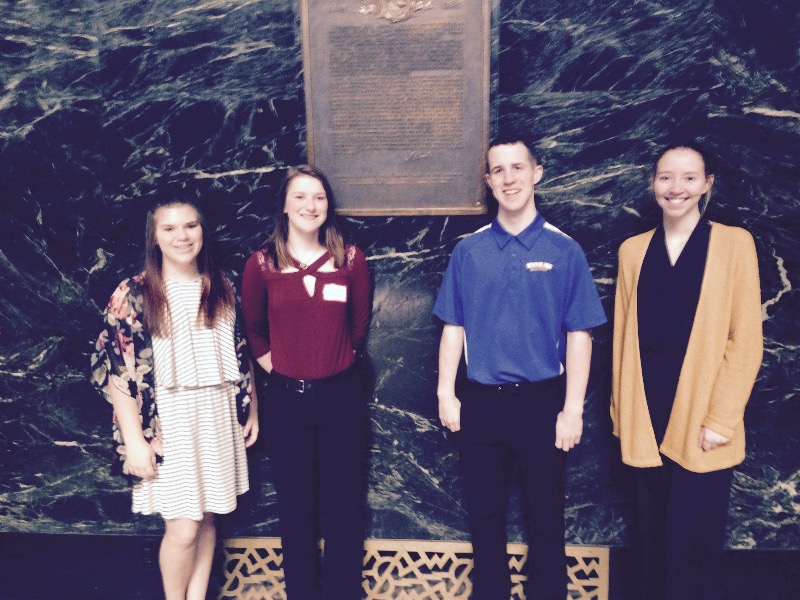 Four SHS Sophomore students attended the annual GFWC NFWC Sophomore Pilgrimage at the State Capitol on Wednesday, April 4, 2018 and were involved in a series of leadership workshops, discussion groups and tours. Attending the event and representing Seward High were Sophomores Kenna Piskorski, Nolan Whitney, M.E. Porter, and Emily Lintt. Also selected but unable to attend due to illness was Madalyn Lobmeyer and Macy Gebhardt. Also attending from the SHS History Department and serving as a sponsor was Mr. Mark Cidlik.
The students met with Governor Pete Ricketts and other elected officials and representatives of the officials, staff and office representatives, if the elected officials were unable to meet with the students. Jessica Kolterman, legislative lobbyist with JK Consulting also spoke to the group about the lobby process. It was noted she was a part of the Sophomore Pilgrimage her sophomore year at SHS!
They also met with Senator Mark Kolterman in his office, visited the Legislature in session and dined with him at the Governor's Mansion over the noon hour. His staff shared a special tour of the capitol with the Seward students and they visited the Nebraska Supreme Court Chambers after lunch, before returning home.
The annual Sophomore Pilgrimage is an award winning program sponsored by the GFWC Nebraska Federation of Women's Club's Inc. and was developed to promote leadership in local, tenth grade students, hoping that they can return and share their experiences and leadership observations with others in the high schools across Nebraska. The local students were sponsored by the GFWC Seward Woman's Club, GFWC Seward Junior Women's Club and the School District of Seward High Ability Learner Program (HAL).
Each student attending will receive a certificate and group photo of them in front of the Governor's Mansion. They plan to report to the GFWC Seward Woman's Club in August at their membership meeting.
The students were selected from written application and individual interviews last October, coordinated by GFWC local representative Bonnie Kruse of the GFWC Seward Woman's Club. Seward has sent representatives to this program since its inception over two decades ago!