Keep Nebraska Beautiful State Conference Presents Seward Five Awards for Recycling/Beautification Efforts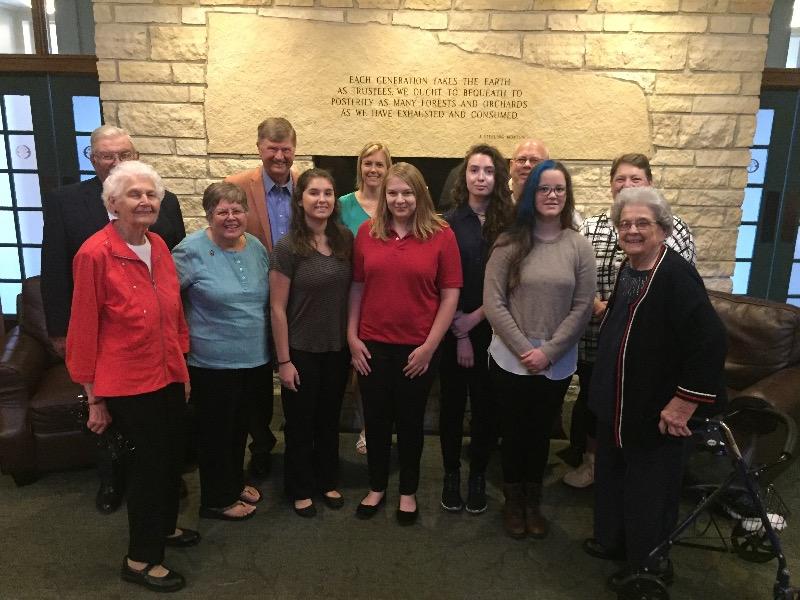 Seward Generates Three First Place Awards at KNB State Conference in Nebraska City
The Community of Seward, Seward High and local service organizations won five awards at the recent Keep Nebraska Beautiful State Conference in Nebraska City. The City of Seward won the top award –First Place-- the Deannie Anderson Award-Best Overall Community Recycling Program, won First Place in the "Great American Clean-Up" competition for their outstanding recycling and clean-up day sponsored by the Seward County Chamber and Development Partnership and First Place in the Outstanding Civic Group/Volunteer program by Civic Group/Non-Profit Group by the GFWC Seward Woman's Club for their "Make a Difference Day" and civic projects centered on beautification and recycling. Seward High School won the "Award of Excellence" in the category of Secondary Recycling Programs for their recycling efforts at their school and the SHS FCCLA (Family Community Career Leaders of America) won Third Place at the state contest in High School service groups recycling programs-for their annual Tee Shirt recycling drive and other community projects generated to promote recycling.
The City of Seward won First Place Division II- for the medium size communities division in the Deanie Anderson Outstanding Community Environmental Award for their outstanding total community beautification/ recycling effort. Accepting the award for Seward was Betty Jean Kolterman for the City of Seward Keep Seward Beautiful Committee (Chairman) and the GFWC Seward Woman's Club.
The GFWC Seward Woman's Club received First Place in the Outstanding Civic Organization Award for their excellence with their beautification and betterment efforts. The GFWC Seward Woman's Club annually sponsors the "Make A Difference Day" in October, promoting clothing recycling and was the first civic group to donate funds for the new William Seward Statue area on the courthouse square. They annually sponsored the City of Seward Arbor Day festival, Friend of Tree Award and the "My Favorite Tree" art contest. Accepting the award for the GFWC Seward Woman's Club were members Bonnie Kruse and Kim Fisher.
The City of Seward/Seward County's annual Recycle Day won First Place in the Great American Clean-Up competition, honoring the SCCDP and Seward Rotary Club. Accepting the award was Megan Kahler of the SCCDP who chaired the Clean-up Day and Seward Rotarian's Bill Hartmann and Jon Kruse-faithful Rotary volunteers at the Seward Recycling Center.
The SHS Family Career Community Leaders of America (FCCLA) was awarded Third Place for Secondary Environmental Civic Groups for their numerous recycling projects during the school year and Seward High was complimented with an Award of Excellence for their annual recycling campaign and efforts, under the direction of Mr. Pat Piskorski and his Fifth Hour Classes and the SHS FCCLA. Representing SHS at the Conference were FCCLA members Abby Van Velson, Destiny Grunke, Hannah Kolterman-Wagner and Miriam Voehl.
There were nine delegates from Seward at the recent Keep Nebraska Beautiful Conference in Nebraska City at the Lied Center on Thursday, August 23, 2017. Representing Seward High School were SHS FCCLA representatives Destiney Grunke, Hannah Kolterman Wagner, Miriam Voehl, and Abby Van Velson,, GFWC Seward Woman's Club representatives were Jean Kolterman, (who is also the Seward Keep Nebraska Beautiful Committee Chairman) and Kim Fisher and Bonnie Kruse, representing Seward County