Seward High Wins 2018 Sweepstakes Trophy from Nebraska State Fair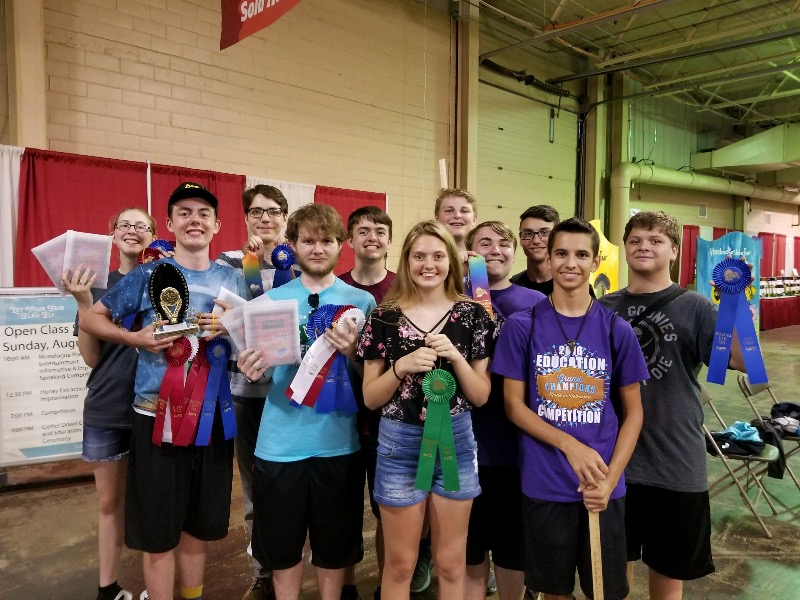 Seward High was named the recipient of the annual State Fair Education Division's Top Award-The Sweepstake Championship Award Trophy for their student's outstanding participation and success at the recent education competitions at the Nebraska State Fair in Grand Island-named Champion High School in the Education Division of the Nebraska State Fair! The students from SHS competed in a variety of performance and static contests, with students competing in education contests on August 25 and 26 at the State Fair. The contest was sponsored by the Nebraska State Fair, their Education Division and the NEBRASKAland Foundation. Over 5000+ entries created a record number of entries for the Education Division of the Nebraska State Fair.
Ryan Wall was named the recipient of the Brad Forsberg Award, named top overall best presenter at the 2018 Education Division Performance Contests.
The Seward High "Jays" Quiz Bowl team was named the first runner-up in the recent State Fair Quiz Bowl contest at the State Fair in Grand Island on Sunday, August 26, 2018 with teams from across Nebraska-featuring general knowledge questions. The strong SHS Quiz Bowl Team members included Ryan Wall-Captain, Thomas Bosmeniel and Jarod Harris.
Winning the first place trophies in the State Fair Education Division were Thomas Bosmeniel in Monologue, Ryan Wall in Science, Ryan Wall in Social Studies, Makayla Oglevie in Short Story, Abby Van Velson in Essay 9-10, Thomas Bosmeniel in Poetry Presentation, Payton Davis Schmidt in Essay 11-12, Anna Sommerer in Poetry 9-10, Amara Mueri in Poetry 11-12, Madalyn Lobmeyer in Cipher Down-First Place, and both the individual community service project "The Red Sand" Project by Tatum Criner and the SHS FCCLA Project "Helping the Homeless" -Tee Shirt Collection by Hannah Kolterman-Wagner and Miriam Voehl won First in the Group Community Service Award! Tri-folds and notebooks are on display at the State Fair! Stacey Damanhoury First in Cup Stacking! (Note: This is the fifth year in a row that Stacey has won the Cup Stacking Contest!). The winning First Place team in Improvisation was Ryan Wall, Rory Nolan, Ross Brown, Thomas Bosmeniel and Madalyn Lobmeyer. First place winners each won $100 scholarship to the college of their choice, a plaque, and rosette for each event. All participating contestants were given a free pass to the fair and a tee shirt.
Seward High had three Quiz Bowl teams in the annual State Fair Quiz Bowl high school quiz bowl contests. Each team competed in a round-robin contest to determine placement in the annual single elimination quiz bowl contest –asking teams general knowledge questions. SHS Team A was composed of Ryan Wall, Thomas Bosmeniel and Jarod Harris and they placed second overall. Other SHS Quiz Bowl teams included Team 2-Rory Nolan, Marson Larson and Ross Brown, Team 3-Isaiah Van Beek, Braden Adams, Andrew Alley and Ashton Conner. The SHS Freshman team was Maddie Viger, Jack Wall and Blake Anderson.
SHS students winning in the Monologue contest were Thomas Bosmeniel -First, Bailey Mooney-Second.
In the Impromptu speaking contest, Ryan Wall won second place, Thomas Bosmeniel was third, Bailey Mooney was fourth, and Jarod Harris was fifth. The SHS Improv team members included Ross Brown, Rory , Madalyn Lobmeyer, Ryan Wall and Thomas Bosmeniel –placing First over all!
Madalyn Lobmeyer was named second place in the Informative Speech contest.
In Cup Stackling in the High School Division, Stacey Damanhoury was First Place, with Landon Nelson fifth and Ryan Wall sixth place.
In "Poetry Out Loud" competition, Thomas Bosmeniel placed first, Madalyn Lobmeyer placed second, Ryan Wall placed third, Kylie Edgington placed sixth, Bailey Mooney place seventh and Alex Sick placed eighth.
In the math contest, Math 9-10 winners included Isaiah Van Beek -sixth, Jarod Harris-Seventh, Ashton Conner-eighth, Andrew Alley-ninth and Braden Adams tenth, while in Math Grades 11-12, the winners included Ryan Wall-second place, Thomas Bosmeniel-fourth and Gracie Sullivan-fifth!
In the Science tests Grades 9-10, placing sixth was Jarod Harris, and Alexa Hieser tied for seventh, and in Science tests Grade 11-12, Ryan Wall placed first place over all, with Jarod Harris fourth and Thomas Bosmeniel-firth place.
In the Spelling tests Grades 9-12, winners included Thomas Bosmeniel-second, Gracie Sullivan-HM and Ryan Wall-HM.
In Social Studies tests winners included Ryan Wall-First Place and Thomas Bosmeniel-second place for grades 11-12, while in Grades 9-10 in Social Studies, the SHS winners were Andrew Alley-sixth and Jarod Harris-HM.
In Grammar tests for Grades 9-12, the winners from SHS were Ryan Wall-second, Jarod Harris-fourth and Thomas Bosmeniel-fifth.
In the High School Individual Community Service Individual contest Tatum Criner place first over all in the individual division with her "Red Sand" FCCLA Star project and in the Group Division of Community Service, Hannah Kolterman and Miriam Voehl's FCCLA Star Project "Helping the Homeless-Tee Shirt Drive" won First Place.
In the Essay Contest Grades 9-10 from SHS included, Abby Van Velson-First Place, Jacob Jurchen-Second, Josie Oxford-third, Hannah Bales-fourth, Avery Lewis-fifth, Wade Slepicka-sixth, Anna Sommerer-seventh, Macy Gebhardt-eighth, Elhan Ideus-ninth, Camryn Jensen-tenth, and Honorable Mentions to Zac Clark, Larissa Embree, Amber Gadeken, Dylan Hiser, Clare Karel, Delany Read, Audrey Reinert, Bria Schulz and Aryssa Two Crow.
Essay winners in Grades 11-12 awarded to Peyton Davis Schmidt won first place overall, Amara Mueri-second, Lincoln Haase-third, Daniel Collins-fourth, John Mark Myers-fifth, Matthew Arndt-sixth, Kiona Coe-seventh, Goi Duol-eighth, Natasha Block-ninth, and Jordan Oborny-tenth.
In penmanship competition for Grades 9-10, Alexis Hiser won third, Abbey Bimler was fourth, Audrey Todd-fifth, Hannah Bales-sixth, Amber Gadeken-seventh, and HM to Gillian Mettenbrink, Avery Lewis and Aryssa Two Crow, Kenna Piskorski, Tatum Criner, Camryn Jensen, Jordan Nitsche, and Macy Gebhardt.
Grades 11-12 Penmanship winners from SHS included Katryna Ruykas-second, Teanna Hurley-third, Virginia Glaser-fourth, Amara Mueri-fifth, Peyton Davis Schmit-sixth, Carissa Hackbart-seventh, Theresia Stewart-eighth, Mason Mahalek-ninth, Bailee Nelson-tenth, with HM to Taylor Brodecky.
In the written poetry contest on Nebraska Winters, in grades 9-10, the winners were Anna Sommerer-First, and Makenna Gross-second, Alexis Hiser-third, Samantha Oborny-fifth, Abbey Bimler-sixth, Abby Baack-seventh, Maddie Woolard-eighth, Larissa Embree-tenth, and HM to Hannah Bales, Tatum Criner, Macy Gebhart, Jarod Harris, Ethan Ideus, Camry Jensen, Cassandra Kottich, Madalyn Lobmeyer, Emily O'Kief, Matthew Sherman, and Brianna Shook.
Top awards for written poetry in Grades 11-12 to Amara Mueri –First Place and Bailee Nielsen-2ndPlace, with Katryna Ruka placing third, Teanna Hurley–fourth, Thomas Bosmeniel-fifth, Kaden Saum-sixth, Peyton Davis Schmit-seventh, Virginia Glaser-eighth, Riley Nuttleman-ninth, Taylor Brodecky-tenth, and HM to Stacey Damanhoury,
In the Short Story Contest, Makayla Oglevie was named first place with her short story, Kenna Gottschalk was second, Theresia Stewart-third, Jacob Auman-fourth, Audrey Sorensen-fifth, Tyson Reisdorff-sixth, Mason Mahalek-seventh, Dace Klimm-eighth, KayLea Rolfsmeyer-ninth, Natasha Block-tenth and Honorable Mention to Sergio Price!
In a special contest at the end of the day, a "Cipher Down" math contest named Pam Franck was named one of the winners, along with Madalyn Lobmeyer! Other participants included Jarod Harris, Kevin Fields, Ryan Wall and Kyle Hinkel.
Dozens of students from SHS participated in the numerous education division competitions each day, for a total of 50+ during the two day event on Saturday, August 25 and Sunday, August 26, 2018 in Grand Island. Students from Seward High won many awards and recognitions. The State Fair entries from Seward High are sponsored through the High Ability Learner Program (HAL) in the Seward School District and supervised by SHS Teachers Melissa Pohl, Pam Franck and Kyle Hinkel.