Sarah Bujarski Named Seward Youth Rotarian for October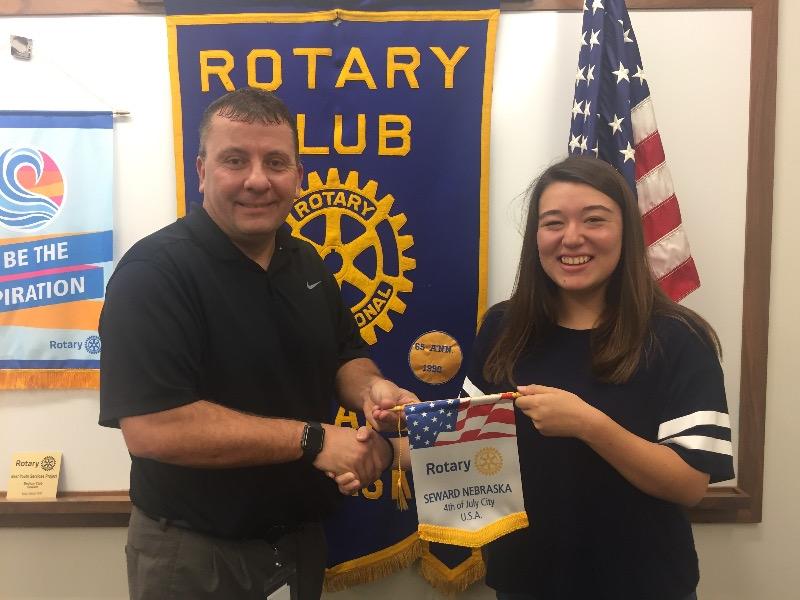 SHS Senior, Sarah Bujarski, was named the Seward Youth Rotarian at the Wednesday, Oct. 3rd, 2018 Seward Rotary Club meeting held during a noon luncheon at the auditorium of the Jones National Bank and Trust Company in Seward. Sarah is the daughter of Sachie Bujarski and Jeff Bujarski. She was introduced by Rotarian Clark Kolterman, who is a member of the local selection committee and she was introduced to the membership, presented a book scholarship, a Rotary banner and mementos and information on Rotary International.
Music is a key factor in Sarah's life, however, she also excels as a scholar at SHS. She has been part of the SHS Honor Roll for twelve consecutive terms, completed and passed Honors English 11,AP US History, AP Calculus, and is currently enrolled in AP Biology and AP English Literature, besides being enrolled in the Career-Academy Basic Nursing Assistant and Career-Academy Psychology.
Her extracurricular activities are varied but really center around music, music and music! She is a longtime member of the SHS Marching Bluejay Marching Band-winning seven Superior ratings, and lettering twice –where she enjoys playing the Mellophone. She is also the Seward High Symphonic Band as a section leader playing the French Horn.
She has participated in Honor Bands at Concordia Musical Arts Day Honor Band, Central Conference Honor Band, Kearney Underclassman Honor Band, University of Nebraska Kearney Honor Band and the Doane Festival of the Winds Honor Band.
Sarah is a member of the SHS Jazz Band and plays the piano in the band. She also plays the Mellophone in the SHS Pep Band and is a member of the SHS Wind Ensemble, where she plays the French Horn. Sarah is also a member of the SHS Swing Choir, as the accompanist on the piano.
Sarah has completed over 120 hours of volunteer service hours at Hillcrest Evangelical Free Church. Her volunteer efforts include membership and leadership with her involvement in the SHS Key Club, where she is an officer, along with memberships in the SHS FFA, Skills USA and Family Community Career Leaders of America –the SHS FCCLA.
She has been long time involved in 4-H and the Seward County Junior Leaders program, also volunteering with both groups in a host of activities. She also participated in the VFW "Volce of Democracy" Speech contest at SHS.
She won the UNL Young Artist Award as a Junior at SHS, receive a scholarship from the National Federation of Music Clubs at the International Music Camp-wining one of six scholarships over 460 applicants. She also received the Junior Standout Award in music, won the GFWC NFWC District Music Contest in the Instrumental Division at the Seward Civic Center and has received two Superior ratings in French Horn at District Music contest.
She is a member of the Hillcrest Evangelical Church in Seward-and serves as a voice of youth in her congregation-a leader in their volunteer activities.
She has completed her "Service Above Self" requirement, volunteering through the work with the Hillcrest Evangelical Free Church, the Key Club community service activities such as the Multicultural Fair, the Ronald McDonald House, the SHS Swing Choir camp, concession stand work, along with Key Club, FFA and Skills USA community service work. She also volunteers at the local Ridgewood Center in Seward, as well as the Futaba Clinic, Yokohama Japan.
Her college plans are undecided as to where she attend, however she is considering a Biology Major with hopes of being a doctor someday.
The Seward Rotary Club presents one Youth Rotarian Award to an SHS Senior each month from August to May, based on scholarship, leadership and citizenship, with an emphasis on "Service Above Self!" Students only need to apply once during the school year and applications can be obtained from Seward Rotarian Jill Johnson, Assistant Principal at SHS.