Jax Johnson and Cayden Glandt Speak of their US Army Experiences at Seward Rotary Club Meeting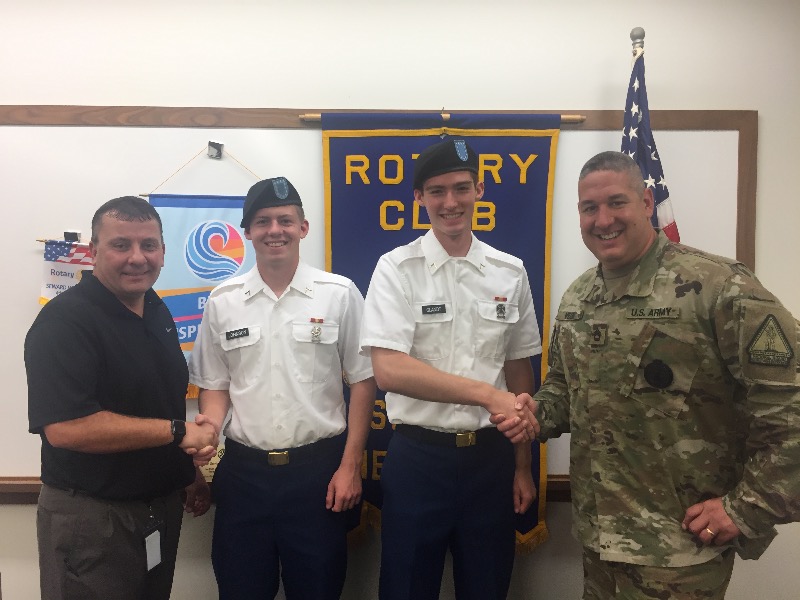 Seward High Seniors, Jax Johnson and Cayden Glandt both enlisted in the US Army National Guard their junior year of high school and attended basic training the summer of 2018. They were the featured program at the October 3, 2018 Seward Rotary Club meeting held at the Jones National Bank and Trust Company Auditorium at their noon hour meeting. A lunch, fellowship and short business meeting preceded the program. Jax is the son of Brady and Jill Johnson, and Cayden is the son of Kip and Stephanie Glandt – all of Seward. Sergeant First Class Roberto Vega, of the Nebraska National Guard was also a guest. He was one of the recruiters for the Nebraska National Guard who assisted and guided the students in the application process
Rotarians Jill Johnson and Matt Dominy are responsible for the six programs in October. Jill Johnson introduced Seward High Seniors who shared a presentation based on their ten-week experience at basic training. Many photos were acquired through their specific military unit's Facebook pages provided by the US Army.
Jax Johnson attended Fort Jackson in South Carolina, and Cayden Glandt attended Fort Leonard Wood in Missouri. They presented a on the week by week timeline of their basic training experience, beginning with the application process and the first day happenings, even including their haircut styling experience!
Their programming at basic training was divided into three phases: Red Phase, White Phase, and Blue Phase for their training process. Comments on their presentation included working with their Drill Sergeants, whom they both admired, shooting exercises, obstacle courses, ten-mile hikes, stories on their various learning experiences, and finally the joys of Family Day and Graduation Day! In Johnson's program 240 of the 260 applicants finished the program, and in Cayden's program 154 of the 160 finished the program and completed their basic training experience.
Both young men will continue to serve one weekend per month until they go to Ft. Leonard Wood this summer for 11 weeks of Advanced Individual Training (AIT) and on-the-job instruction. Part of this time will be spent in the classroom and in the field. Jax Johnson will train as a Chemical Biological Radiological and Nuclear (CBRN) specialist primarily responsible for defending the country against the threat of CBRN weapons and Weapons of Mass Destruction. Cayden will train to become part of 31 Bravo Military Police andprotect the lives and property on Army installations by enforcing military laws and regulations.
During the program Rotary members asked about the medals on their dress uniforms: Cayden received the Marksmanship Medal, and Jax was presented the Expert Marksmanship Medal for their accuracy with their firearms. Both soldiers received their first promotion while at their prospective basic training camps. Only about 10% of the trainees receive this honor during the first ten weeks of their training.
Both soldiers commented on the educational benefits of joining the US Army National Guard, such as the GI Bill, and look forward to their post high school education. Glandt's future plans include attending the University of Nebraska in Lincoln in the area of either broadcasting or agriculture, and possibly trying to "walk on" the UNL Cornhusker football team as a kicker. Johnson also plans to attend the University of Nebraska in Lincoln in the area of study in business or engineering. Both students will be in the Nebraska National Guard for at least six years-giving one weekend a month and two weeks during the summer.
Questions and answers followed their presentation to the Seward Rotary. The meeting concluded with Seward Rotary President, Todd LaVelle, thanking both students for their dedication and service and wishing both continued success in school and with their US Army National Guard careers.