Seward Rotary Club Honors Bryson Janousek as November Youth Rotarian of the Month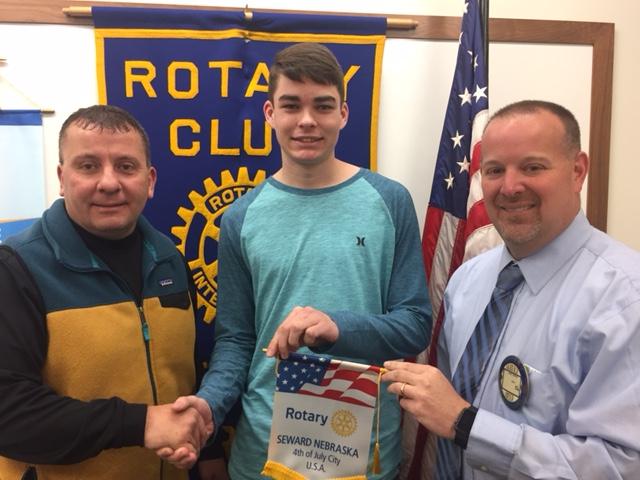 The Seward Rotary Club honored Bryson Janousek as the November Youth Rotarian of the Month at the recent Seward Rotary Club meeting on Wednesday, Nov. 7 at noon at the Jones Bank and Trust Company's auditorium during their business meeting. Rotarian Matt Dominy-project co-chair introduced SHS Senior Bryson Janousek, the son of Tim and Jennifer Janousek. He was introduce and Dr. Dominy presented Bryson's resume and the reasons he was being honored. He was presented with some information on Rotary, a Rotary banner and a Rotary Club Book Scholarship.
Bryson is a scholar athlete and very involved at Seward High school. He has a 3.7 GPA and usually a member of the SHS Honor Roll. He was also recognized as an Honor Athlete-and named an Academic All- Conference by the Lincoln Journal Star in 2017 in the area of Basketball.
Bryson was a recipient of the SHS Bluejay P.R.I.D.E. Award recently in the area of dedication at school.
He is extremely dedicated to his "sports"-playing for all four years of his high school career and leading the SHS Basketball team and earning a team letter. He is also a four year member of the SHS Baseball program and a team leader and letterman in that sport as well.
Bryson is a four year member and leader of the SHS Future Business Leaders of America (FBLA) organization, as well as a member of the SHS FFA and Fellowship of Christian Athletes in Seward. He participated in the local VFW "Voice of Democracy Speech Contest," as well as the various Nebraska State Fair Education programs in writing.
He is a member of the Rock Lutheran Church in Seward and often a voice of their youth membership. Bryson is also part of and involved with the Rock Lutheran Church Godparent program in Seward.
Bryson has been employed with Syngenta Global-pollinating and becoming assistant crew leader and most recently has been employed with Team Elite-in the area of rouging and detasseling corn during the summer months. During the school year he assists with the youth program at the Seward Recreation Department – especially with flag football and basketball programs.
His area of "Service Above Self" he has generated hundreds of volunteer hours of community service. Bryson currently serves as one of the SHS High School Social Media Interns, and has worked with a variety of summer youth sport camps at SHS. He is a longtime volunteer for the Seward Youth Basketball tourney and was selected one of 14 boys from the Junior/Senior class to be an SMS Outdoor Education counselor for three days-all as a volunteer!
He volunteered for a recent family mission trip to Guatemala with his pastors from Hillcrest Evangelical Free Church to serve in the area of building and faith sharing family activities in Amatitlan, Guatemala. He also volunteered many hours through his service organizations of FBLA and FFA-often in volunteer leadership positions and was involved in their community service programs and projects.
After high school, Bryson is still undecided where to attend college but hopes to play for a college basketball team during his post high school career and plans to major in some aspect of Marketing, possibly a major in Social Media Marketing with his dream job of being the Social Media Director for a major sports team
Bryson is now a finalist for the "Service Above Self" Seward Rotary Club scholarship to be announced in May and he will be honored and recognized again as a Youth Rotarian Scholarship finalist at the annual spring Senior Honors Night, when the scholarships are announced.
The Seward Youth Rotarian program is open to all Seward High Seniors, and selection is based on scholarship, leadership, character and "Service Above Self!" Applications can be obtained from the SHS Counselor's office, and only need to be completed once. One award is presented monthly and announced at the local, Seward Rotary Club meeting.