Rebekah Klenke Named Youth Rotarian of the Month by Seward Rotary Club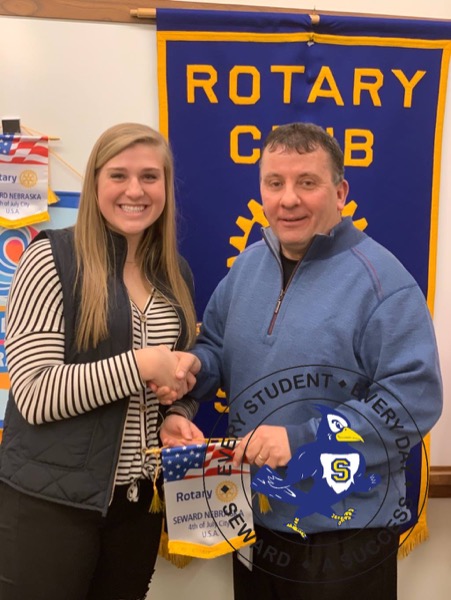 Seward High Senior, Rebekah (Bekah) Klenke of Malcolm was named the January Youth Rotarian of the Month by the Seward Rotary Club at their weekly membership meeting at the Jones Bank auditorium. A luncheon, fellowship and brief business meeting preceded the program. At the business meeting Rotarian Dr. Matt Dominy introduce Rebekah Klenke and spoke on her scholarship, leadership and service to others. She is the daughter of Tim and Kelly Klenke of rural Malcolm.
Rebekah is a scholar/athlete and has been a member and leader in the SHS National Honor Society since 2016. She was named Academic "All Conference" in Volleyball 2015-2017 and in Soccer at 2017-2018. She has qualified for the SHS Honor Roll for the last 12 consecutive quarters and the recipient of numerous PRIDE Awards from both teachers and administrators.
Students involved in three sports for four years is rare today and Rebekah is a leader in SHS Volleyball, Basketball and Soccer programs. Rebekah has been involved with the SHS Volleyball program since 2015 and the recipient of numerous awards. Her athletic skill is also evident in the area of basketball-also generating recognition and awards. She has been involved and a leader with the SHS Basketball program since 2015 too! Finally, her leadership is also displayed in with her soccer team participation, also since 2015, with the team resulting in a successful program because of her leadership and skill.
She is a longtime member and leader in the SHS Future Business Leaders of America (FBLA) and serves as their recruitment chair. She was also involved with local SHS FFA program for two years. Her leadership and involvement with the many aspects of high school awarded her placement with the new SHS Social Media Committee, serving as an SHS Social Media Intern since 2016.
She participated in the Poetry Out Loud program, the Nebraska State Fair Education Division activities and the local Seward VFW Post "Voice of Democracy" speech contest.
Her summer work experience includes serving two years as a Lifeguard at the Seward William Dowding Memorial Swimming Pool, served as a Daycare Teacher Aid and is a Baby Sitter for families in the area.
She is a longtime member of the Westminster Presbyterian Church in Lincoln and a voice of youth at their congregation.
In the area of "Service Above Self," she has been a longtime volunteer staff leader/teacher with the various SHS Volleyball programs during the summer months for area girls, as well as girl's Summer Basketball camps as a volunteer student coach, teacher and mentor.
She is a willing and faithful volunteer at the Seward Senior Center in the summers and was a volunteer at the St. John Child Development Center in the summer of 2015.
Her future plans include a major in Nutrition Science and will attend the University of Nebraska in Lincoln, where she someday aspires to become an Obstetrician and deliver many healthy babies!
Rebekah was awarded a Rotary Club Book Scholarship, materials on Rotary International and a Rotary Banner. Rebekah will again be recognized in May at the annual Seward High Senior Honors night and she is a finalist for the annual Seward Rotary Club's "Service Above Self" Youth Rotarian of the Year scholarship, to be announced and awarded in May.
The Seward Rotary Club recognizes one Youth Rotarian of the Month each month during the school year and applications are available from the SHS Counselors office.