SHS Academic Decathlon Team Competes in AD Regionals at Bellevue East High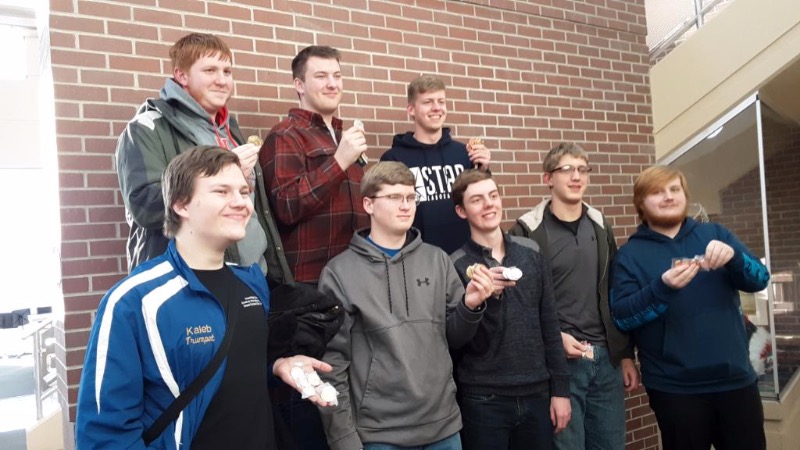 The SHS Academic Decathlon Team competed in their annual Academic Decathlon Regional contest at Bellevue East High School on Saturday, January 19 for an all day, academic competition.
Eight SHS senior class students competed in three divisions in testing in the categories of Math, Language and Literature, Economics, Science, Art, Music and a Super Quiz Bowl finale. The students competed with other students from similar size schools and were in competition against students with their same grade point averages, in an effort to qualify for state in February in Omaha.
SHS Senior, Ryan Wall, won the top honors for the SHS Academic Decathlon team-receiving the top test scores and being presented with a commemorative gold medal.
Academic Decathlon members earned the following medals within in their appropriate competition groups: Language/Literature - Ryan Wall 2nd, Marc Freiberg 3rd and Dylan Pool Haussler 3rd; Art - Kaleb Wunderlich 1st and Marc Frieberg 3rd; Music - Kaleb Wunderlich 1st, Garrett Kuss 3rd, Jax Johnson 3rd and Dylan Pool Haussler 3rd; Mathematics - Jack Yelden 1st, Ryan Wall 2nd, Brady Smith 2nd, Kaleb Wunderlich 2nd and Dylan Pool Haussler 3rd; Economics - Brady Smith 1st, Jack Yelden 1st, Jax Johnson 1st, Kaleb Wunderlich 1st, Garrett Kuss 2nd; Science - Kaleb Wunderlich 1st, Ryan Wall 2nd, Jax Johnson 3rd and Dylan Pool Haussler 3rd.
Members of the SHS Academic Decathlon Team for 2019 included Ryan Wall, Brady Smith, Jack Yelden, Garrett Kuss, Jax Johnson, Marc Freiberg, Kaleb Wunderlich, Dylan Pool Haussler. Because of weather other team members were unable to attend, which disqualified Seward from qualifying for the state competition.
This is the 21st year that SHS has competed in the Academic Decathlon team contest. It is funded through the School District of Seward High Ability Learner Program (HAL) and the Seward Optimist Club. The Seward Optimist Club also donated matching tee shirts for each of the team members.
Schools that compete in the medium size school division of Academic Decathlon included Seward, Omaha's Daniel Gross, Omaha's Skutt Catholic, York, Lexington and Alliance.
Noelle Baker served as the SHS Academic Decathlon coordinator for 2019 and Pam Franck and Kyle Hinkel served as the team sponsors that day.