SHS Students Attend RYLA Rotary Leadership Week-end-2019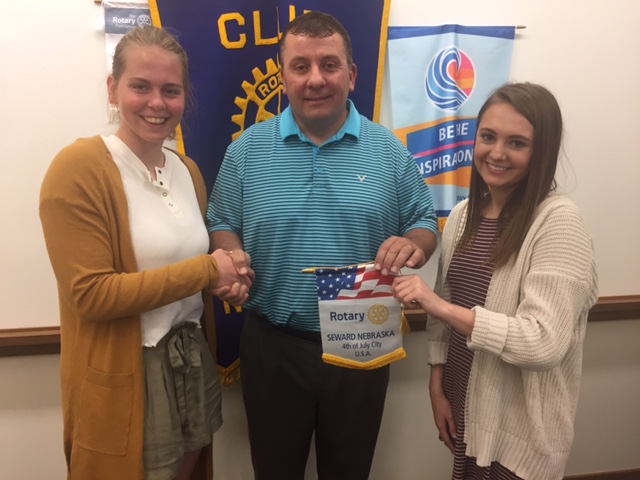 Two SHS Juniors, Elise Johnson and Emily O'Kief were the SHS representatives to the recent spring Rotary Youth Leadership Award (RYLA) leadership week-end for high school juniors. They were sponsored by the Seward Rotary Club and reported on the leadership seminar at Lousiville, NE at Camp Kitaki on April 5-7.
RYLA camp is an intensive 3-day training program for high schoolers that helps participants think critically about important issues and share ideas with talented peers, learn how to coordinate and lead community service projects both locally and globally, discuss the importance of good governance and civil society to the world, business ethics, and finally, learn to think globally and explore issues that transcend national and cultural boundaries.
The goals of RYLA included…to 1. Build communication and problem-solving skills2. Discover strategies for becoming a dynamic leader in your school or community. 3. Learn from community leaders, inspirational speakers, and peer mentors. 4. Unlock your potential to turn motivation into action,5. and Have fun and form lasting friendships.
The RYLA experience prepares young people to be leaders in their community, profession, and other facets of everyday life.
Both Seward RYLA participants, Elise and Emily attended the Seward Rotary Club meeting on Wednesday, April 24 and reported on their experiences at RYLA-sharing the highlights and outcomes of the program, sharing their leadership skills and activities. Seward Rotary Club President Todd LaVelle thanked the girls for well representing the Seward Rotary and SHS and presented each with some Rotary mementos and a Seward Rotary Club Banner.
Rotarians, Brady and Jill Johnson volunteered to serve as the transportation hosts for the girls, delivering the girls and returning to bring them back to Seward.