Jarod Harris Named First Youth Rotarian of the School Year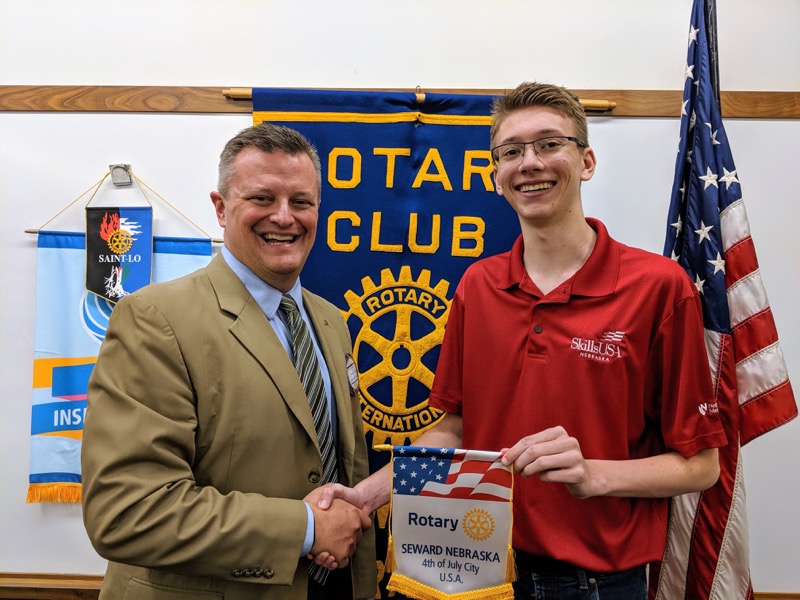 SHS Senior, Jarod Harris of Seward was honored at the recent Seward Rotary Club meeting on Wednesday, August 21st, 2019 at their weekly Rotary Club's noon luncheon meeting at the Jones Bank auditorium in Seward. He is the son of Kirtis and Kari Harris of Seward and was introduced and welcomed to the meeting by Rotarian Dr. Matt Dominy. Dr. Dominy shared many of the activities of Jarod and spoke on the numerous accomplishments and honors he has achieved during his high school career. Jarod was presented with a packet of materials promoting Rotary and the community of Seward and was also presented with a Seward Rotary Club banner.
Jarod is a very involved student but his first priority is his academic efforts. He has consistently been on the SHS Honor Roll. Jarod is Captain of the SHS Academic Decathlon team. He is a longtime member of the SHS Quiz Bowl team and serves as a Captain of the successful SHS Quiz Bowl team. He was recently named a finalist for the National Merit program and a member of the SHS High Ability Learner program (HAL) for the School District of Seward.
Jarod has been one of the academic leaders in the State Fair Competitions in the Education Division, with multiple finishes in the top five tests and winning first place awards in many areas! He has been one of the top awardees in the Trimathalon at Doane University many times during his high school career, as well as UNL Math Day Comptitions and received many P.R.I.D.E. Awards from the SHS Faculty.
Jarod is very involved with the SkillsUSA Vocational Education service organization at Seward High, on the State level and was recently elected to be one of the first Nebraskan's to be elected as a National SkillsUSA officer-serving as the National Skills USA Parliamentarian. He served as a leader on the local SkillsUSA level-participating in many of the local service projects and was elected a State officer of the State SkillsUSA program last year-serving as SkillsUSA State Historian. He participates in the SkillsUSA Quiz Bowl program on the State and National level and competed in Web Design and Drone Technology.
Jarod has been involved with Speech and Drama at SHS over the span of his High School Career-patriating in the SHS One Act program and SHS Musicals. He is a member of the SHS Speech team, participating in Entertaining Speech, Impromptu Speaking and Extemporaneous Speaking. He participated in the local VFW Voice of Democracy Speech Contest and Poetry Outload program as well.
Jarod was a finalist for the HOBY program. He is also a leader and longtime active member of the SHS Future Business Leaders of America (FBLA) and has participated in numerous competitions and contests on the State Level at State FBLA Conventions and was a national FBLA Qualifier three times.
He has been a leader and active in the SHS Music program, especially instrumental, with his trombone-playing in the SHS Marching Band, SHS Concert Band, SHS Wind Ensemble, SHS Pep Band. He has also been a member of the Seward Swing Choir Band and Select Choir.
Jarod is very involved with his church in many volunteer aspects and considered a youth leader in his church. He is a member of the Seward United Methodist Church and involved in their Youth Program.
Jarod is a long time member of the Seward Scouts program and achieved the rank of Eagle Scout. He continues to mentor young Scouts even today. He was also a longtime member and leader in the SHS Swim Club, with many award and honors as a result of his swimming accomplishments.
His "Service Above Self" service in the community is his continued work with the community projects with Skills USA's annual Blood Drive, Christmas Drive, Food Drive and Teacher Appreciation programs. As a member of Scout Troop 256 his has been involved with host of community service activities as well and his Eagle Scout project was promoting bike safety by sponsoring a local Bike Rodeo for the Greater Seward Area.
Jarod was employed outside of school at the Dowding Memorial Swimming Pool as a lifeguard and currently is the concessions manager at Seward Rivoli Theater.
He plans to attend MIT University and Major in Chemical Engineering, and eventually hopes to become a Chemical Engineer
Jarod was presented with a Seward Rotary "Book" Scholarship will be again recognized and honored at the SHS Spring Academic Night and he is now a finalist for the Seward Rotary Youth Rotarian of the Year scholarship. Applications have been emailed to all SHS Seniors for the Youth Rotarian of the Month Award and can also be obtained from the SHS Counselor's office.