Elise Johnson Selected January Youth Rotarian of the Month-2020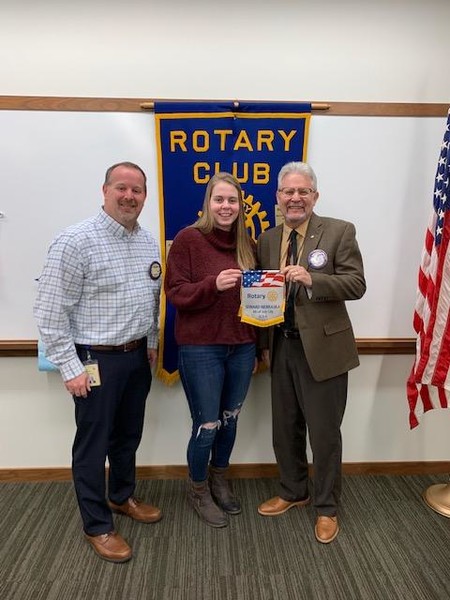 Elise Johnson, a Seward High Senior, was selected the January Youth Rotarian of the Month and recognized and honored at the recent Seward Rotary Club noon luncheon meeting on Wednesday, January 8th, 2020 at the Jones Bank Auditorium. Elise Johnson is the daughter of Jill and Brady Johnson of Seward. She was introduced by Rotarian Dr. Matt Dominy of the Seward Rotary Youth Rotarian Committee and she was presented a Rotary Club banner and information on Rotary and Rotary International.
Elise is very involved with a host of extracurricular activities at Seward High; she is also a lead scholar at Seward High! She is always on the SHS Academic Honor Roll, is a long-time leader in the SHS National Honor Society, and was selected as the SHS Carson Scholar Representative. She serves as a Seward High School Ambassador. She has also been the recipient of numerous P.R.I.D.E. awards-nominated by administrators and teachers at the high school.
Elise has been involved in three sports at SHS. She is a leader for the SHS Girls Soccer team and has been involved in the program for three years of her high school career and awarded a varsity letter. She has also been involved with the SHS Women's Basketball and Track programs at SHS.
She participated in the local VFW Voice of Democracy Speech Contest. She has been involved over the years in a host of activities at the Nebraska State Fair in the Education Division and participated in the SHS Quiz Bowl program. She was also selected for the Rotary Youth Leadership Award (RYLA) and attended the two-day Rotary RYLA leadership seminar as a junior in high school.
Elise is a very involved SHS officer in the Seward High FFA program serving in the past as the FFA Chapter Historian and presently serves as the FFA Chapter Secretary. She has participated in a host of the FFA activities on the District and State level and attended several FFA National Conventions and Conferences, as well as the many community service projects such as the annual Food Drive and Blood Drive sponsored by the FFA Chapter.
Elise was a member of the H-4 4-H Club and held many of the offices of the club. She is very active in the Seward County Fair program, winning a variety of ribbons, trophies, medals, and other awards in 4-H. She is a past member of the Seward County 4-H Council and was the student representative to the Seward County Fair Board.
Elise loves to travel and visited many areas of the USA. She has enjoyed the opportunity to visit internationally to Canada, Greece, France, the Netherlands and England. She also enjoyed the experience of hosting an international student at Seward High in their home.
Elise has been employed by Elise's Canine Creations selling her homemade pet treats. She has also worked for It's a Journey Horse Training as well as St. John's Summer Horizons Enrichment Program as a teacher in horse management. She is currently employed by Animal Crackers dog boarding.
In the area of "Service Above Self," Elise has been a volunteer mentor at St. John Lutheran Church in Vacation Bible School and as a 4-H Mentor in the Partner Program. She led an initiative with her brother to create a Book Walk at Seward Elementary. She also served as a 4-H Youth Summer Camp program volunteer and a 4-H Council Volunteer.
Elise is a member of the St. John Lutheran Church in Seward, an active member of their Godparent program, attended the National Youth gathering in Minneapolis this last year and New Orleans in 2016. She is a longtime volunteer in the St. John Lutheran Church, and she is considered a strong voice of the youth in her congregation. She is a proud graduate of St. John Lutheran School in Seward and was very active in the school while attending there.
Elise plans to attend South Dakota State in Brookings, South Dakota to double major in Agriculture Education and Animal Science and minor in Equine Science. She would eventually like to become an Agriculture Education Teacher/FFA Advisor or work in the agriculture industry. It should be noted that she is very excited to take her horse--a mustang she rescued through the Kansas State Fair program--with her to college!
Elise was presented with a Rotary Book Scholarship from the Seward Rotary Club and will again be honored and thanked in May at the SHS Senior Honors Night at the SHS Theater. At that time, the Seward Rotary Club will announce the Seward Youth Rotarian of the Year and present that student with the Youth Rotarian of the Year Scholarship. One Youth Rotarian is selected every month by the Seward Rotary Club to an SHS Senior through an application process made available in the SHS Counselor's office.