Carson Core Named Seward Youth Rotarian of the Month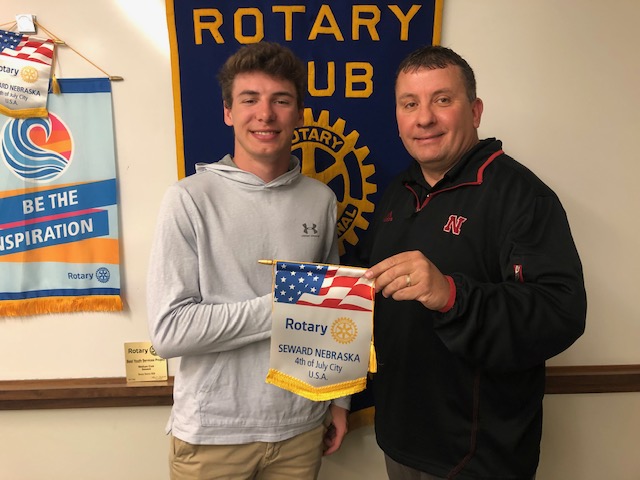 Seward High Senior, Carson Core was selected the April Seward Youth Rotarian of the Month by the Seward Rotary Club. He is the son of Tiffany and Robert Core of Seward. He was recognized at the April 17thSeward Rotary Club weekly luncheon meeting at the Jones Bank in Seward. He was introduced to the membership by Rotarian Matt Dominy, and he was presented some Rotary mementos, a Rotary Book Scholarship and Rotary Banner.
Carson is a student athlete and a three year member of the SHS National Honor Society. He is a long time SHS Honor Roll awardee-always on the Honor Roll every semester since freshman year and has received numerous P.R.I.D.E. awards, and a SHS Student of the Month. He is also a member of the SHS Bluejay Leadership Team.
In this day and age, it is rare to see a student athlete participate in three varsity sports all four years and be extremely successful in each of them. Carson has done just that, as he is one of the few in his class to participate in three varsity sports all four years of high school at Seward High. His athletic extracurricular activities include participating with honors as a member of the SHS Football team all four years. He also was a state qualifier and honored multiple times as an SHS Wrestler. He also played a key role as a four year member of the SHS Bluejay Baseball team and was honored and recognized the many awards for his outstanding athleticism.
His athletic honors include Academic All State in Football and Wrestling, "All District" in football, twice he was District Champion in Wrestling and twice a state qualifier in Wrestling, plus he was a state finalist and placed sixth at State in Wrestling in 2019, and 2019 All State Honorable Mention.
Carson participated in the Seward VFW Voice of Democracy Speech Contest and the Nebraska State Fair Education Contest in multiple areas. He was recognized at the State Fair with a scholarship and First Place for his "Nebraska" Poem. He participated as a member of the SHS Quiz Bowl team over the years.
He is also active in service at Seward High, as a leader and four year member of the local SHS Future Business Leaders of America (FBLA) and a four year member and key player in the very successful SHS Skills USA organization. He has served as his SHS Class President twice and in a two year member of the SHS Bluejay Leadership Team (Student Council).
In the community and "Service Above Self," category, Carson has participated as a full time volunteer in the Seward Middle School Outdoor Education program as a Counselor for two years and is a five year member of the Seward Wrestling Club Tournament Staff. He has also been a key player/educator in the Seward "Little Kids" Football Camp for the last four years.
His work experience revolves around the Seward Parks and Recreation program, specifically with the youth flag football program in the area of officiating. He also has been a lifeguard at the Seward Dowding Municipal Swimming Pool for the last two summers.
Carson attends the Seward United Methodist Church and is a loyal member of their Godparent program. He is an active member of the youth group program and considered a voice of the youth at his church.
He plans to graduate in May from Seward High and attend Concordia University in Seward, to obtain a degree in Graphic Design and Video Editing. He has also accepted a Football Scholarship and will be playing for the Concordia Bulldogs Football team.