Welcome to Curriculum and Staff Development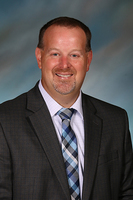 Matt Dominy Erin Collings
Curriculum & Staff Development Instructional Specialist
Director
Dr. Matt Dominy is the district's Director of Curriculum and Staff Development. He can be reached at his office at the Middle School at 402.643.2986 or via email at matt.dominy@sewardschools.org. Amanda Murman serves as the administrative assistant in the Curriculum/Staff Development Office. Her email address is amanda.murman@sewardschools.org.
Curriculum Offerings
The School District of Seward offers a diverse curriculum, including the following instructional programs: art, business education, computers, language arts, sciences, social studies, Spanish, health, family and consumer sciences, industrial technology, mathematics, vocal and instrumental music, physical education, agriculture education, special education, and high ability learner education. Advanced placement courses are offered in statistics, biology, calculus, and English Literature and Composition. Dual credit is available in Spanish, psychology, and English.
State of the Schools Report
In the fall of each year, the Nebraska Department of Education releases The State of the Schools Report. This report includes student performance data, teacher data, and information about the schools at the state, district, and building levels. Student performance on standards as well as student results on national tests are all available in this report. School district data including ratings on student performance and assessment quality are displayed along with the demographic characteristics of each school district. In addition to the information about student performance and assessment quality, detailed information is provided on teacher qualifications, course offerings, school expenditures and receipts. Seward's Current State of the Schools Report can be seen on the Nebraska Department of Education website. Please watch this site for more information on curriculum and staff development!
Additional Curriculum & Staff Development Information
Assessment COPPA Statement Curriculum Professional Development