Madalyn Lobmeyer Honored as Seward Youth Rotarian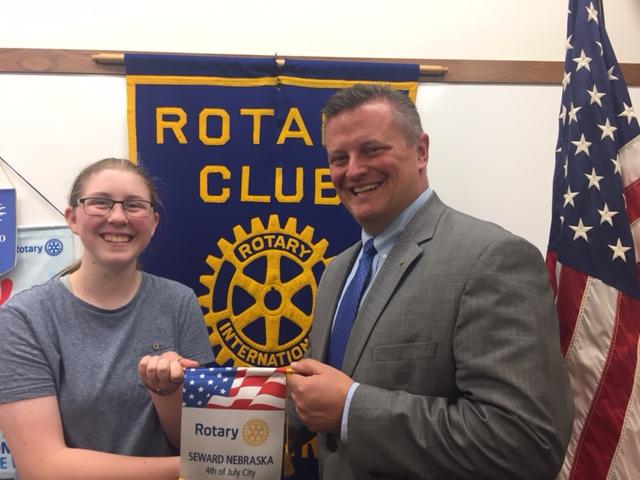 SHS Senior, Madalyn Lobmeyer of Seward was honored at the recent Seward Rotary Club meeting on Wednesday, September 4, 2019 at their weekly Rotary Club's noon luncheon meeting at the Jones Bank auditorium in Seward. She is the daughter of Jonathan and Amy Lobmeyer of Seward and was introduced and welcomed to the meeting by Rotarian Clark A. Kolterman. Clark Kolterman shared many of the activities of Madalyn and spoke on the numerous accomplishments and honors she has achieved during her high school career. Madalyn was presented with a packet of materials promoting Rotary and the community of Seward and was also presented with a Seward Rotary Club banner.
Madalyn is a very involved student but her academic efforts is a priority. She has consistently been on the SHS Honor Roll with a 4.05 GPA. She is a longtime member of the SHS Quiz Bowl team. She was recently named a semi-finalist for the National Merit program. She is a member of the Seward High National Honor Society.
Madalyn participated in the State Fair Competitions in the Education! She has been involved with the TriMathalon at Doane University during her high school career, as well as UNL Math Day Competition honoree and has received many P.R.I.D.E. Awards from the SHS Faculty. She attended the All Girls All Math Summer Camp and was an AMC Test Participant. She is certified in Microsoft Excel M.O.U.S. in Work, Excel and PowerPoint.
Madalyn was a member of the SkillsUSA Vocational Education service organization at Seward High, and also a member of the SHS Key Club. She was named a Hugh O Brian Youth Leader Pioneer (HOBY). She also participated in the GFWC NFWC Sophomore Pilgrimage at the State Capitol.
Madalyn has been involved with Speech and Drama at SHS and was a state qualifier for the last two years! She has been involved with the SHS One Act program and SHS Musicals her entire high school career, also serving as a Stage Manager for the Musical. She is a member of the SHS Speech team, participating in Persuasive Speech, Informative Speaking, Humorous Prose Literature and the Drama Team.
She participated in the local VFW Voice of Democracy Oratorical/Speech Contest and was a District Finalist the last three years. She has been successful in the local and state Poetry Outload program as well-was named the Outstanding Freshman Presenter, selected the SHS Champion and Poetry Outloud State Finalist and SHS Outstanding Junior Presenter in the Poetry Outloud Contest. She was the State Champion in the Nebraska Oratorical Speech Contest and competed at the National Contest in St. Louis, Mo.
She is active in the SHS Music program, especially instrumental-playing in the SHS Marching Band, SHS Concert Band, SHS Wind Ensemble, SHS Pep Band and the Underclassman Honor Band and plays the french horn and mellophone. She is a member of the SHS Select Choir. She was a member of the SHS Student International Travel Program this last summer and visited and experienced France, England and Amsterdam with a delegation from Seward and Seward High.
Madalyn is very involved with his church in many volunteer aspects in her church. She is a member of the St. John Lutheran Church in Seward.
Her "Service Above Self" service in the community is his continued work with the community projects with Key Club's Food Drive programs and the Key Club UNICEF Children's drive and their annual Multi-Cultural Affair. She is also involved with the Mobile Food Distribution the St. John Mobile Pantry in Seward and has been a longtime volunteer to help those less fortunate.
Madalyn is employed outside of school at the JD Coffee Shop and served as an intern in the Seward County Attorney's office.
She plans to attend either MIT, RIT or the University of Nebraska and Major in Software Engineering, and has not decided yet on a final area or career after college.
Madalyn was presented with a Seward Rotary "Book" Scholarship will be again recognized and honored at the SHS Spring Academic Night and she is now a finalist for the Seward Rotary Youth Rotarian of the Year scholarship. Applications have been emailed to all SHS Seniors for the Youth Rotarian of the Month Award and can also be obtained from the SHS Counselor's office.