Seward Rotary Club Donates Student Dictionaries---"PROJECT DICTIONARY!"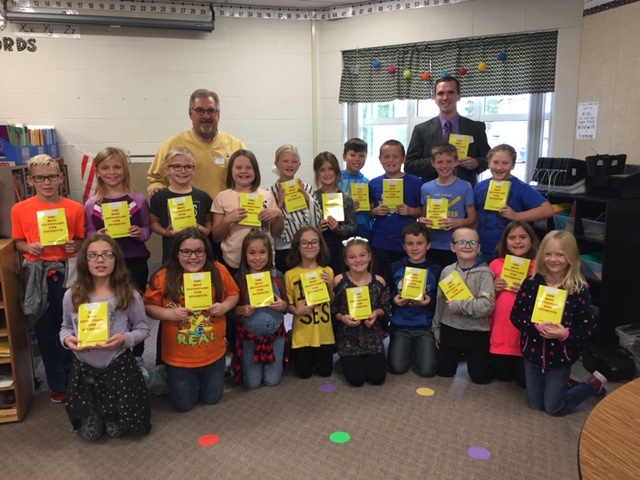 The Seward Rotary Club donated dictionaries to the area Third Grade Students at Seward Elementary, Our Redeemer Lutheran in Staplehurst, St. Paul Lutheran School in Utica, Utica Centennial Schools, and St. Vincent de Paul Elementary School. Each student in the Third Grade received a student dictionary and encouraged to save it and use it in future years as well. The Rotarians spoke on the many benefits of the dictionary and showed the students all the extra features of the dictionary that were given to the students to keep and take home at the end of the school year. Extra dictionaries were also donated to give to new arrivals in each classroom. Note: St. John Lutheran 3rd Grade received their dictionaries from a memorial from Esther and Truman Prange Memorial from the Prange family.
Classrooms receiving the dictionaries include the classrooms of Michelle Smith, Amanda Clouse, Suzi Paseka, Jamie Moore, and DeAnn Warren –all at Seward Elementary, Alissa Hoxmeier at St. Vincent de Paul Catholic School and the Third Grade class at Our Redeemer in Staplehurst taught by Keely Vought. Also dictionaries were given to Grade Three at St. Paul Lutheran in Utica taught by Roberta Luce and the Utica Centennial Third Graders in classes taught by Chrystal Jorgensen and Jared Zysset.
This is an annual national project of many of the Rotary Clubs across the USA, to promote literacy in our schools-both private and public. Local Rotarians presenting dictionaries included Mark Suhr, Clark Kolterman, Ken Schmieding, Chuck Matzke and Jan Matzke, Jonathan Metschke, Greg Zabka, Matt Dominy, Michael Meyer, Greg Butcher, Jane Rehmer, Shelly Nitz and Ron and Bea Niemoth.
PHOTO: Rotarians Greg Zabka and Greg Butcher presents the dictionaries to Michelle Smith and her third grade class at the Seward Elementary School.