VFW Speech Contest Winners Announced for 2019-2020 "Voice of Democracy" Speech Contest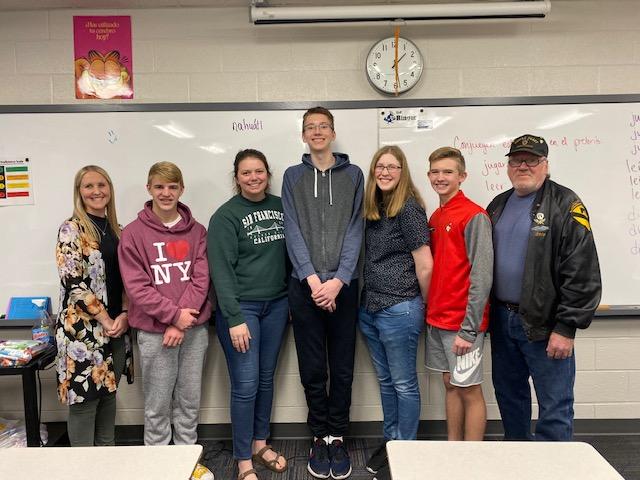 The local judges for the Seward Voice of Democracy Speech Contest selected SHS Senior, Jarod Harris the first place winner in the the local Seward VFW Post 4755 and VFW Auxiliary's Voice of Democracy Speech contest. Jarod is the son of Kirtis and Kari Harris of Seward, Nebraska. The Voice of Democracy is a national student speech/essay program sponsored annually by the Seward VFW and Auxiliary.
Each of the student speaker enties will be presented with a cash scholarship from the Seward VFW Post 4755 and Seward VFW Auxiliary. The students were each required to write and record a three to five minute speech on the topic of "What Makes America Great?" They were required to submit a CD of their presentation, a typed copy of the speech and entry form. The one first place winner will advance to the District VOD Speech Contest representing the Seward VFW Post 4755 and VFW Auxiliary. There were five entries in this year's contest from Seward High and the only entries from the high schools in the county. Each District will select one representative to advance to the state Voice of Democracy Speech Contest sponsored by the Nebraska VFW and Auxiliary.
Other finalists included SHS Freshman Noah Fields, SHS Seniors Madalyn Lobmeyer and Macy Gebhardt and SHS Junior Nathan Hochstein. The judges determined they would all be named Runners-up and share equally in the runner-up scholarships, instead of a second, third, fourth and fifth place.
Judges for the contest were UNL students-Communication Majors John Joseph-Omaha and Julie Jackson-Lincoln. Local VOD Chair for the local VFW is Greg Holloway and assisted by local SHS Speech Teacher Erica Crouch.
The students will receive their VOD scholarships at the spring Honors Night In May and be honored on stage at that time as well.
Photo:
2019-2020 Seward VFW Post 4755 and Auxiliary "Voice of Democracy" Speech Contest winners
First Place-Jarod Harris-Seward High School Senior
Runner-ups-Honorable Mentions
Macy Gebhardt-Seward High School Senior
Madalyn Lobmeyer-Seward High School Senior
Nathan Hochstein-Seward High School Junior
Noah Fields-Seward High School Freshman
Five entries in the Post 4755 contest-all from Seward High-One speech sent to Districts
Speech coach at Seward High-Mrs. Erica Crouch