SHS International Student Welcomed to Seward by Seward Rotary Club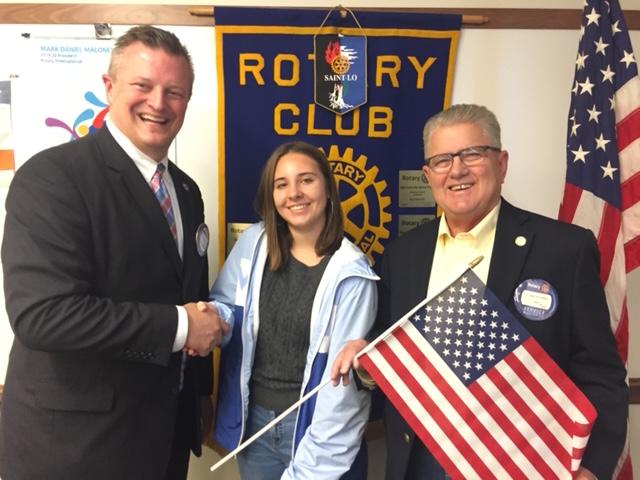 Hannah Kinzelberger, of Oberwaltersdorf, Austria is the newest international student attending Seward High School, in Seward, Nebraska and was welcomed to Seward by the members of the Seward Rotary Club at their recent meeting on Wednesday, October 2 at the Jones Bank. She attended the luncheon, club meeting and program on the recent Concordia Plum Creek Children's Literacy Festival.
Hannah was introduced to the membership by Rotarian Jill Johnson, the SHS Vice Principal and presented with some local gifts from the Rotary Club and a special Seward Rotary Club banner, to welcome her to Seward, Nebraska and the USA! She is the daughter of Gerhard and Gabrielle Kinzelberger. Her host family is John and Jana Hughes of rural Seward. She is taking a full class schedule and participating and part of the Seward High Volleyball team.
Photo L-R Seward Rotary President Kurth Brashear, Hannah Kinzelberger-SHS International Student from Austria and Rotarian Senator Mark Kolterman. The Rotarians welcomed Hannah to the Seward Rotary Club, Seward, Nebraska and the USA.