Seward High Captures 2019 Central Conference Quiz Bowl Crown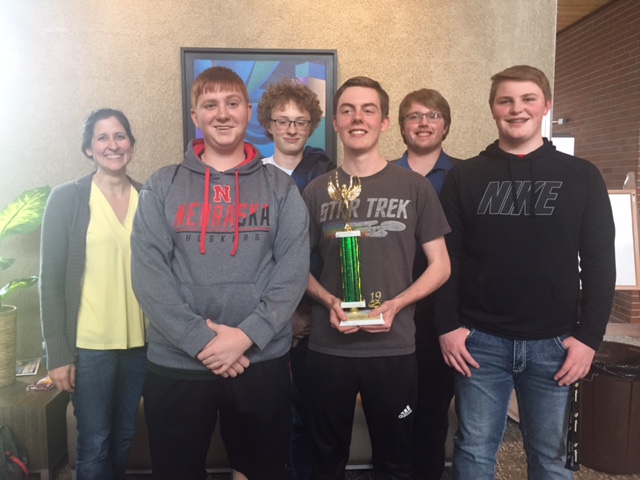 Seward High Team A captured the recent First Place trophy at the annual Central Conference Quiz Bowl Tournament at the Seward Civic Center on Wednesday, April 10, 2019 in an all-day Quiz Bowl event covering general knowledge. The tourney featured eight of the ten schools in the Central Conference, with two teams from each school participating. In the morning, a "round robin" tourney was held, with each school playing in five contests against another team in the Central Conference. In the afternoon, the schools competed in a single elimination tourney, based on seeding-from wins/losses, total points and highest score in the round robin.
Placing first was Seward High-Team A, coached by Melissa Pohl. SHS Senior Ryan Wall was captain of the team, along with members Senior's Sheldon Bale, Jack Yeldon, and Freshmen Owen Krahulick, and Isaiah Van Beek. Seward High Team B included Rory Nelson, Jacob Mueller, Ethan Wilkinson, Ross Brown, Andrew Alley and Braden Adams.
Second Place was awarded to York High's Team A coached by Dennis Haack, with Third Place awarded to Aurora's Team A coached by Brenda Klawonn and Fourth Place was presented to York Team B, coached by Dennis Haack. The winning team was each given an official Central Conference medal and all four teams were awarded trophies.
In the morning the top seed team was York Team A with 865 points and five wins and no losses. Aurora Team A was second seed with 665 points and five wins and Seward High was third seed with 635 points and four wins and one loss. A single elimination tourney concluded the day in the afternoon with trophies presented in the Civic Center's Langworthy Art Gallery.
The conference is sponsored by the Central Conference, with Seward High Activities Director, John Moody, coordinating the efforts. Clark Kolterman and Charles Gebhardt served as the Quiz Masters. The volunteer readers/judges included Will Helmer, Sue Imig, Mary Meyer, Dr. Louis Reith, Dana Nottingham and Stan Meyer. Local members of the various teams served as timers and score keepers for the contests. Also assisting with the tourney details was local volunteer Riley Nuttleman.
The schools participating included two teams from each of the following schools in the Central Conference-Adams Central, coached by Jill Houghtelling, , Aurora coached by Brenda Klawonn, Crete coached by Karen Drevo, Holdrege, coached by Brandy Edgren, Grand Island Northwest, coached by Katrina Rother, Schuyler, coached by John Sayer, Seward High, coached by Melissa Pohl and York High, coached by Dennis Haack.
Championship Photo: The 2019 Central Conference Quiz Bowl Champions include LR-BR Jack Yeldon, Ryan Wall-Captain and Isaiah Van Beek, BR LR Melissa Pohl-Coach, Owen Krahulick and Sheldon Bale