SHS Seniors Honor by Freedom's Foundation at Valley Forge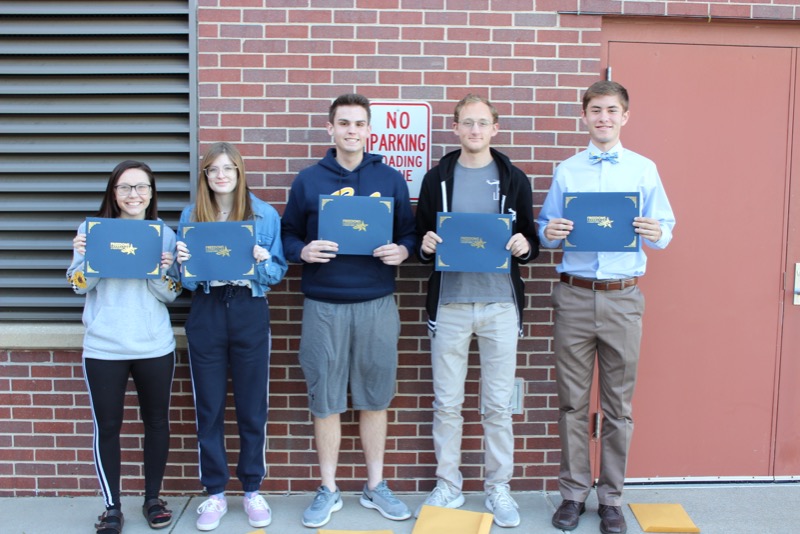 Seven Seward High Seniors were recognized by the Freedoms Foundation at Valley Forge for an essay on Americanism that was rated Superior and the students were each recognized with the Freedom Foundation at Valley Forge's George Washington Honor Medal and special George Washington Honor Certificate. The essays were originally part of a class assignment in their Speech Class at SHS, as each was asked to write on "My Concept of Freedom" and present the essay in a manuscript speech format.
The essays were then entered into the national essay competition, with the judges selecting the top essays for George Washington Honor Medals.
The SHS students honored included Ariana Anderson, David Clark, Emma Kerkman, Antonio Lopez, Gemma Seevers, Matthew Sherman, and Taylor Meese. These Seniors were surprised with the awards, as the essays were written during their Sophomore year at SHS, with Clark Kolterman as their teacher.
The awards were presented by Clark Kolterman and Jill Johnson at the recent PRIDE Rally on Thursday, Oct. 17th, 2019 in the Seward High Theater before the entire student body.
The Freedoms Foundation at Valley Forge was conceived by the late Don Belding, a founder of the national advertising firm of Foote, Cone and Belding. Belding, along with E.F. Hutton and Kenneth Wells, founded the institution in November 1949. Shortly thereafter, they enlisted the active support of General Dwight D. Eisenhower to draw up a summary of basic freedoms – The American Credo – which became the heart of the new organization's message and the philosophic basis of its programs.
Two decisions made in the early 1950's would shape the Foundation's public image:
First was the decision to offer a special awards program for school systems, educators and students. Announced in 1950, these awards marked the beginning of the Foundation's emphasis on educational activities, specifically for young people.

On February 22, 1951, another tradition was established that's endured for 30 years. On Washington's birthday, the Freedoms Foundation presented its distinguished awards and publicly announced its entire list of awardees.

The National Awards

continues today and are presented at ceremonies conducted by our Volunteer Chapters throughout the country.