Statewide "Girls Only" Writing Workshop Held in Seward November 13th-Sponsored by GFWC NFWC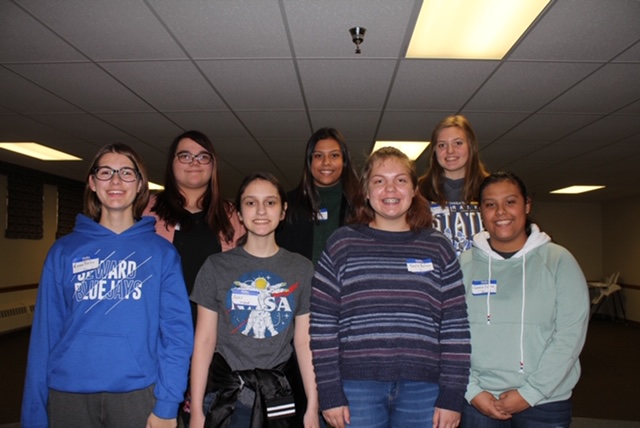 The annual GFWC Nebraska Federation of Women's Club's Inc. annual "Girl's Only" Writing Workshop was held on Wednesday, November 13, 2019 at the Seward Civic Center in Seward, NE. It was coordinated and sponsored by the GFWC/NFWC in an effort to promote writing for women of high school age and older. Approximately 60 participated in the annual writing workshop promoting both the writing of poetry and narrative writing.
Participating from Seward High were Emma Bales, Kylie Edgington, Dani Lopez, Jazmin Lopez, Kaylie Nelson, Liz Rongo, Abby Wignall and Kacia Wasser.
SHS instructor, Mellissa Pohl served as the sponsor for the girls at the all day workshop. The girls were sponsored by the School District of Seward High Ability Learner program, the GFWC Seward Woman's Club and the GFWC Seward Junior Woman's Club.
State Project Chair for the event was Jean Kolterman of the GFWC Seward Woman's Club, who serves as the GFWC/NFWC Fine Arts Chair. The writing workshop coordinator was Dr. Lauren Gatti of University of Nebraska-Lincoln, assisted by students from her UNL university writing education class- including UNL students Meghan Straub, Sidney Parizek and Abbigail Mazour.
Following the opening session of welcome, introductions and a message on writing, the girls broke into groups to study writing of poetry and personal writing. Local, Lincoln author and writer, Lu Pitsch spoke to the participants and share her writing story and the various successes she has enjoyed as a writer, during the working lunch-speaking on what it is like to be an aspiring writer. The lunch was hosted and prepared by the GFWC Seward Woman's Club members. The GFWC Seward Woman's Club also hosted the morning coffee and afternoon break as well!
Another writing session for the groups was held in the afternoon and the day concluded with a sharing of writing in an open mic session. Following the writing workshop, the girls and their sponsors were invited to the local Chapters Books and Gifts local book store.
At the conclusion of the day, materials and free GFWC/NFWC Anthologies were distributed to all the participants of in the writing workshop-along with information and addresses on various writing contests and opportunities in Nebraska. Another workshop is planned for 2020, with details to follow.
Students attending the event were from across Nebraska and the University of Nebraska-Lincoln. Schools represented at the annual GFWC NFWC "Girl's Only" Writing Workshop included Gretna High, East Butler High, Seward High, Stanton High, Bennington, Dorchester and the University of Nebraska at Lincoln.